Human being's fascination with light that they have created themselves goes right back to the time we first discovered fire. Ever since man learnt how to control this unique force of nature, he began experimenting with it for decorative purposes. Lamps and lanterns went from being sources of light at night to part of the décor. However, the oil-lit lamp lost its place in the household as a purely functional object though it was slowly inducted back in its rightful as a part of décor.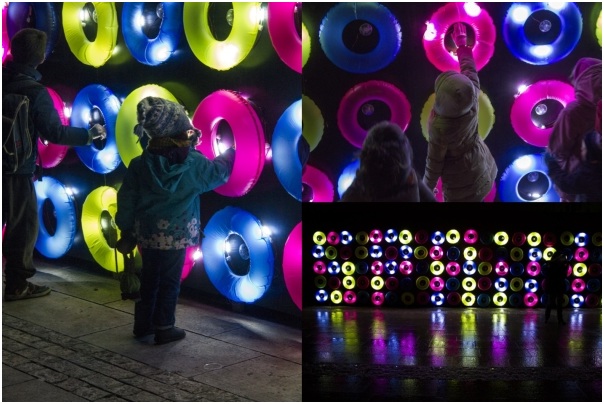 ---
In older cultures, floating lamps have been used as symbol for the circle of life though the Floating Lights installation at Lyon's La Fête des Lumières 2012 uses the notion is an entirely different way. Created by Travesias de Luz, the highly entertaining installation uses floaters in a number of colors to create something like a super low-res digital screen. Each of these screens comprises of over 100 floaters in various colors. Each screen can be used to write basic 4-letter words and messages.
The soft surfaces emit a super soft light which is pleasing to look at even from closer distances though the installation is highly visible even from a distance. The designers state that the installation is meant to serve as an interactive experience that people of all ages can have fun with. The basic system of lights comes with a set of controls in the center of each floater that can be used to play with lights.
As a giant wall of lights that emits a number of colors, the installation lights up the public space in a brilliant display that is very appropriately festive for the holidays. Even though the messages that can be conveyed through the installation can only be very short, the lights give off a very cheerful vibe nonetheless.