When aircrafts are withdrawn from the services, they become useless. But various expensive parts of those decommissioned airplanes can be transformed into eye-catching office furniture. Motoart, a reputed company in California, has become much popular for doing it efficiently. Find below information about four of those amazing corporate furniture made by the organization: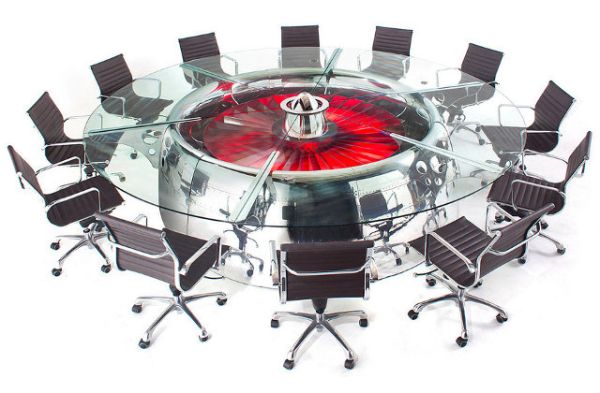 The 747 Cowling Conference Table
It is the latest addition to the list of recycled corporate furniture manufactured by MotoArt. Made from the cowling of the general electric engine of a Boeing 747 jet, this large conference room table is a good choice for accommodating 12 people. The length of the mirror-polished 747 Cowling Conference table is around 12 feet. The stator of the jet engine is connected to 6 pop-up ports and an internal LED lighting system. On the other hand, the spinner of a B-52 engine is fitted at the top. The lights emitted from the LED system are of different colors.
The Lockheed V-Shaped C130 Conference Table
This exclusive table is a perfect fit for a large conference room measuring more or less 15 feet and can be used for 24 people. The best thing about this furniture is its shape. It has two parts attached with each other at 17 degree angle forming a 'V' shape. The C130 Conference Table is named after the C130 Hercules Aircraft as the outer wing flaps (both are 24 feet in length) of the jet were used for making the furniture. It is called 'Lockheed' as it is placed at the Headquarter of Lockheed Martin in Virginia.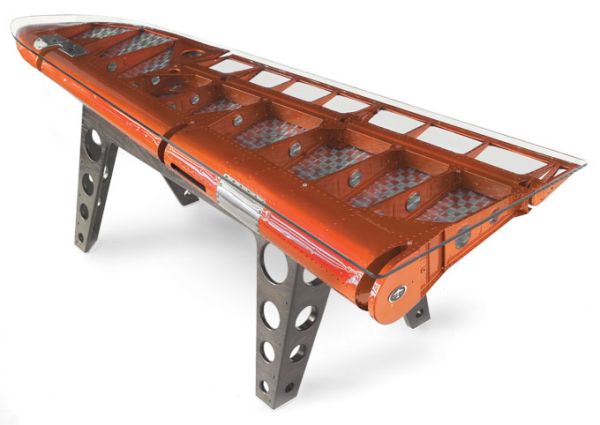 The Fairchild C-119 Rudder Desk
Made from the cargo plane C-119, also popularly identified as the 'Flying Boxcar', this office desk is a 'limited edition' product launched by Motoart. There are only 40 frames of the Fairchild C-119 Rudder Desk is available in the market. After a long work of 160 hours, the actual cover of the rudder was eliminated as well as the aluminum of the device was ground by the craftsmen of the company. After that, it was fitted on the top of 4-feet long V-shaped legs made of hardwood. Though the length of the desk is 8 feet 4 inches, it can be expanded up to 11 feet.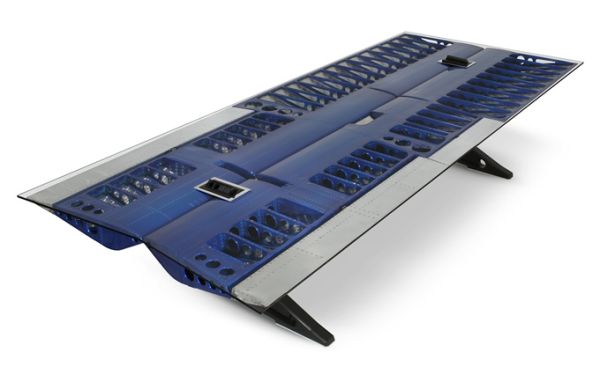 The MotoArt Albatross Aileron Conference Table
As the name suggests, it is another recycled corporate furniture made by Motoart. There are two stabilizers in the Albatross Aileron Conference Table, which are built from two decommissioned wings of the famous Grumman amphibious flying boat. The width of these must be 60 feet, while the length can be kept between 8 feet and 18 feet. The table can be used to run sound systems, USBs, computers, and so on.