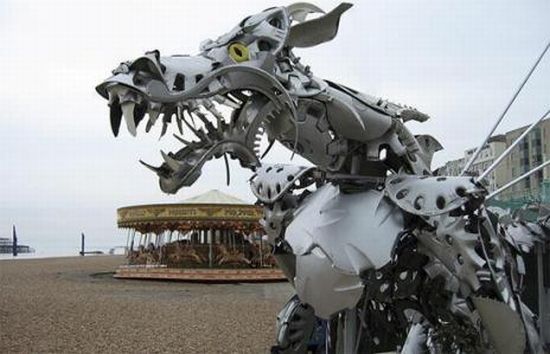 The Concept
Transforming the electronic waste found on the roadside into creative art, and that too without altering their scratched or scuffed state, UK-based artist and designer Ptolemy Elrington has created some life-size creatures, living around us, at his studio located in Brighton.
The Ordinary
Though the 43-year-old designer uses all kinds of hubcaps but he gives preference to those from BMW and Mercedes vehicles, of course due to their refined design and finish, which gives an altogether new twist to giant sculptural creatures.
Inspiration
The main inspiration behind the hubcap creatures is to recycle the roadside junk into useful art, based especially on the insect and animal world, which was further reinforced by Elrington's visit to India, where he stayed for one year and was motivated by the resourceful use of discarded materials. To quote the designer,
In India I saw a great deal of poverty, people scratching a living out of anything. You see people rummaging around on a big pile of rubbish, getting little tiny pieces of wire out, melting the plastic and then selling the wire. That got me thinking, and I've always had an interest in the contents of skips.
The Extraordinary
Recycling the electronic junk into functional art of all shapes and sizes, the giant creatures or sculptures not just recycles the old auto parts scattered all over the places in big heaps but also helps in sustaining the environment while contributing something useful to the art and sculpture. A wide range of waste equipment, from car parts to the wire, has been employed to craft different parts of the giant creatures. The most important aspect of the sculptures is their raw and edgy arrangement, which makes them unique in their own way. Few of his creatures, such as the 10m tall dragon, are as huge as they employ over 200 hubcaps to form a single sculpture.
The Making
After envisioning the basic structure of the creature, Elrington creates a clay mock-up of the custom-built sculpture, and then cuts hubcaps and various other auto parts gathered from the roadside junk into pieces of different shapes and dimensions to assemble the entire body of the artwork. The artist uses a variety of efficient tools for cutting, processing and raising the massive structures.
Usage
The hubcap creatures boast the new form of recycled art, which apart from reducing the auto junk also generate earnings for the artist, as some of the sculptures created by Elrington were sold for as high as £3,000, which is not a mean achievement by any standards.