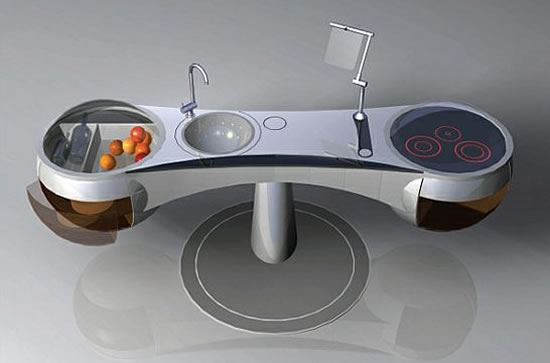 Insight:
The kitchen of my dreams is yet to shape up, even on the papers, as I haven't come across a complete kitchen that can floor me straight away. Even most of the superlative futuristic concepts come with a flaw or two that I cannot compromise on. But Hieu Tranngoc and Hao Tran have designed a balanced kitchen that fits the lifestyle a geek, for sure. Ideally sized for one or two people, Fruit of Life is an open concept that gives the user the freedom to move the kitchen with ease. A fruitful apple tree has been the source of inspiration for the designers and they have literally shaped the whole setup like a tree with two fruits hanging from branches on either side. This concept's USP is that the user can connect to the internet and chat with friends and surf for interesting recipes. Fit for a geeky chef, the kitchen sports a LCD screen on the top that is connected to a small computer.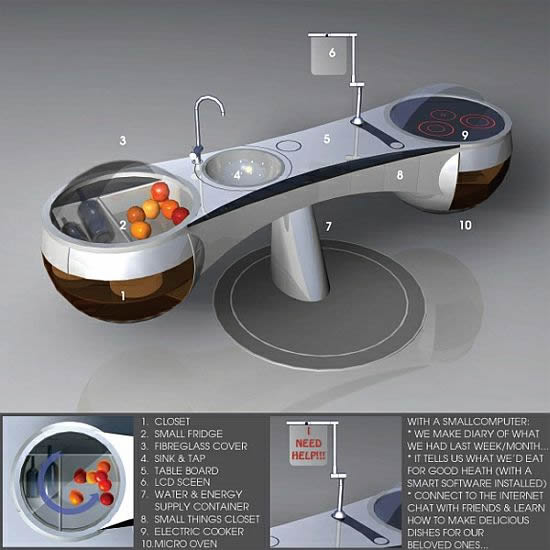 Design Status:
The Fruit of Life is a concept that will take some time to reach productive stage.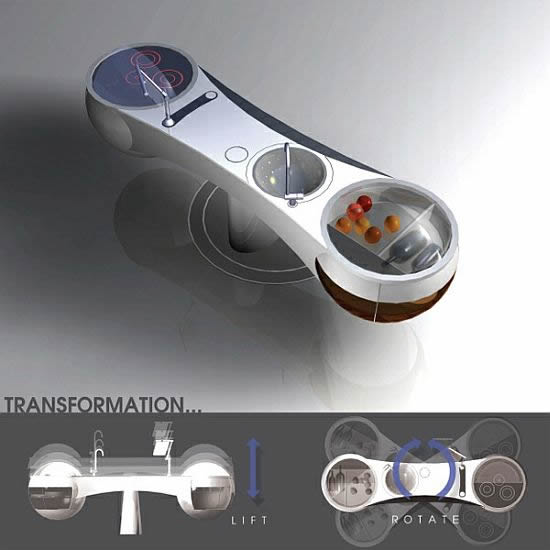 Usability:
Changing the position of the kitchen by simply rotating the fruits makes way for easy cooking. Even the openness rendered by this kind of set up is noteworthy. The interactive feature steals the show as folks can brows sites and chat with dear ones as they go about their task of cooking. A small closet, an undersized fridge, an electric cooker, and a microwave oven are integrated in the two fruits. Sink is at its usual place, over the top while the broad branch accommodates the water and energy supply.
Ideal for small urban dens where space is considered to be high-end luxury.
Via: Hometone