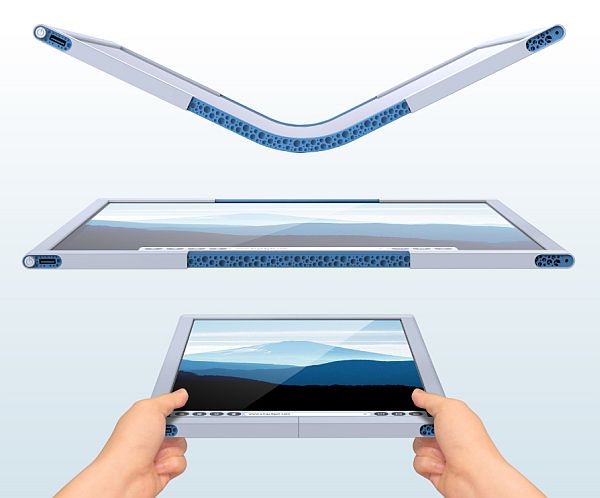 Laptops and tablets are ruling the tech world. But what if you are carrying a tablet and suddenly feel that itch to use a laptop and vice versa? Oops! You will remain stuck with your chosen gadget until and unless you head back home. But times are going to change for good very soon. Bringing the charm of a laptop and a tablet wedged in one is, Flex.

As is evident from the name, Flex is a supple tablet PC which can shift between a 14" 3:4 touch screen in slate mode and 18.5" wide screen when stretched out completely. Flexible here does not mean it is not strong. The sturdy frame has been given a bendable spine, which will endow the user with a flexibility to use it both as a notebook (when bent) and a tablet (when not bent).
It comes with batteries that are flexible as well. The spine of Flex has been crafted from porous biopolymer material and the frame is quite firm. Bend it inwards or outwards, whatever suits you best, and Flex will bow down to all your needs. If you feel like watching a movie, simply take out its embedded loop stand, which will add on to the viewing experience.
The eye-catching futuristic device can be altered in terms of length as well. Flex will shower you with more influential applications and a much better usage experience. So, get the flexibility to tune things your way and feel like a magician.
Via: renelee