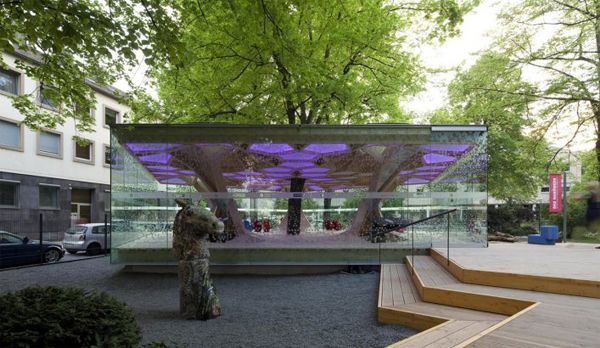 Designed by the Düsseldorf based One Fine Day architects, this beautiful psychedelic structure is called the Treehugger. Build around the trunk of a tree, it is actually a temporary pavilion intended to hold summer events. It's aim is to educate both students and craftsmen about the recent leaps in computational design and computer aided manufacturing technology.
Boasting of a polygonal geometry, it is heavily inspired from the surrounding urban social fabric, and in particular from the nearby St. Castor's stellar vault. But perhaps the most interesting feature of this pavilion is the fact that it uses the shape of an extruded pentagon instead of a square-box. That is, a simple geometrical "plus" that changes the building's appearance depending on the angle from which you are viewing it.
Made of screen printed glass curtains that blur details of interior construction, they leave it superimposed with reflections of all the other surrounding trees. The psychedelic lighting keeps changing drastically the whole the night, making the structure both eye-catching and inviting. Plus, it also has a highly interactive light-installation, which reacts to movements made by the visitors by creating different visual effects, as the human traffic increases.
As of now, the Treehugger is set-up in an erstwhile parking lot, located next to basilica St Castor, in the vicinity of Deutsches Eck in Koblenz, in Germany. But it won't be there for long, as come October and it shall be dismantled, only to be re-erected on the premises of the Chamber of Skilled Crafts, Koblenz.
Via: eVolo