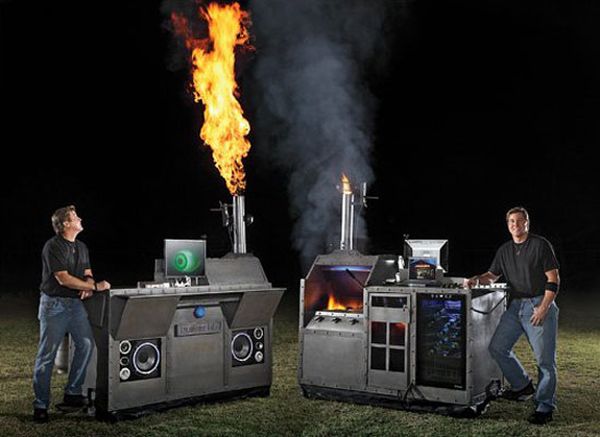 You don't need to be a football fan or even a sports aficionado to appreciate the latest invention of Lance Greathouse, an ordinary Phoenix-based dental-laser repairman, who has an interesting hobby of building robots and all kinds of unique machines. After building numerous things such as a remote controlled, talking robot and an electric wheelchair fitted with faux machine guns, he has recently built the ultimate tailgating station that is portable enough to take the party along with it, anywhere!
For the uninitiated, according to the people who practice it, tailgating is nothing short of an art and involves essentially converting your car or packing your vehicle with numerous amenities such as plasma screens, grills, refrigerators and more. Greenhouse was introduced to this art for the first time last fall, when he saw the Arizona Cardinals play. But more than the game he checked out the other cars and vehicles packed with people and their wares, and was disappointed to see that there was no "all-in-one." He therefore decided to build one himself.
The end result of his four-month long DIY project is what you see here, a 350-pound complete tailgating station. What makes it ultimate? Here is the list: webcams, a beer tap, neon lights, a grill, retractable plasma screens and LCD displays, a powerful sound system with 250-watt speakers, an MP3 player, a laptop complete with Internet access, a remote controlled chilling machine and a fire spewing cylinder.
Thanks to his invention, Greenhouse can multi-task by serving chilled beer to the onlookers, flip some burgers for them while broadcasting highlights of the games from his webcams to the plasma screens. And lastly of course, he can celebrate by staging his own little fire show at the end of all matches. He controls this monster station through a joystick he has fitted on an electric wheelchair in which he sits and drives this rig around. Yes, it can be driven around too! While he prefers to plug his rig in before using it, his station can also just as easily be run off a charged battery as well.
While it looks and sounds expensive, it isn't relatively so. Greenhouse spent months collecting the parts that he has used, including an old grill and flat screen monitor, a whole lot of steel plates and tubing and lastly an electric wheelchair. In all, Greenhouse spent a total of $650 on the machine. As of now, he is using this monster machine out of a friend's back garden, but not for long, as he soon plans to show it off at games, and when he does, he promises, "Instead of being stuck in one place, I'll take the party wherever I want."
Via: Dvice