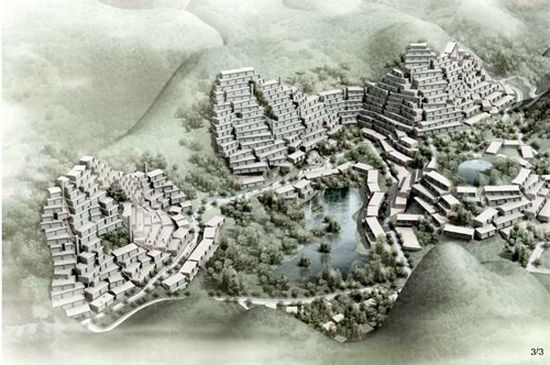 Present-age homes have been given an altogether new-fashioned look ever since mankind discovered and learned new ways of construction. History has that humans first lived in caves and slowly with the pace of time and advanced techniques, they have now moved into huge, comfortable and concrete towering structures. It took several thousands of years for humankind to shift from open forests to multi-storeyed buildings. But, when it comes to living in homes nothing can beat open lush fresh green area.
You may have heard of homes in many unusual places and surely of those on hilltops. But, the new concept that is now underway will enable one to live 'in' a hillside. Well ,people living inside a hilltop will soon become a reality.

A project has been designed by Dutch architectural firm MVRDV for the Chinese town, Liuzhou. The town's eroding mountain face will be developed into a series of staggered box-structures that will leave some areas of vegetation in an amalgam of built and natural form.
MVRDV was expected to complete constructing these unconventional homes by 2007.

image
Source: Offbeathomes