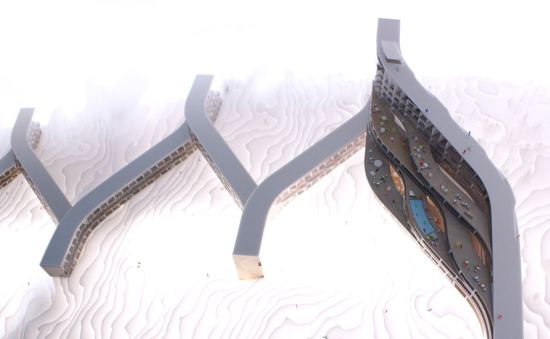 I wonder at the extent to which creativity can go to. Like this team of Norwegian design architects who call themseleves BIG, have actually designed a hotel across the slant of a mountain in Norway to make it easier for ski and snow board lovers to access their floors. Just ski in! No matter what floor one is on, the design allows one to enjoy adventure snow sports and enter their floors without even the need of taking an elevator.
Little is known about the number of floors in this building and when it be ready, but the zig zag design of the resort is absolutely breathe taking, like a carving in the snow, across the slope. Even the skiing and snowboard tracks left on the snow match the curves of the resort.
The design looks like as distinct as a dream, but the idea of building a mountain just against the slope might just get a lot of attention from ski and snowboard lovers which in turn might result in a lot of tourists to this already popular ski destination.
More pics ahead.