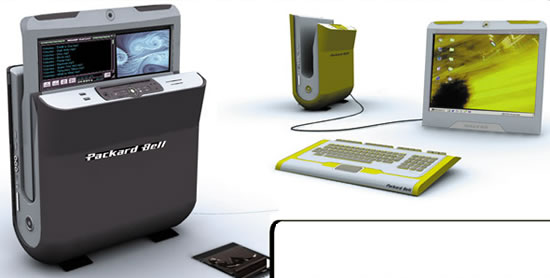 Most of us secure a place for our desktop in our office, bedroom or study. Rarely will you see PC in someone's living room until unless it belongs to the 'most expensive category' or it's decked up with crystals or pimped to glory. Flaunting any such fashionable system is a piece of cake for the Rich and Famous but not for a lay man. So if folks like you and me need to bring our computer system out in open, we can hope that Ben Collette's trendy conceptual project for Packard Bell sees daylight soon. Named as the Deep home computer, this system too consists of essential components like the CPU, keyboard and monitor. It's just that the CPU is shaped such as to house the monitor that can slip in between the slotted form.



Fitted with a multimedia feature, you can watch DVDs as well as listen to your favorite music. Giving a tough competition to the portable laptops, the Deep home computer system can also be moved to the place of desire. That's all we could grab from the designer's site. Hope to see more details on its techie features too.



On second thoughts, if I have a well-featured laptop, why would I spend money to house this portable desktop?