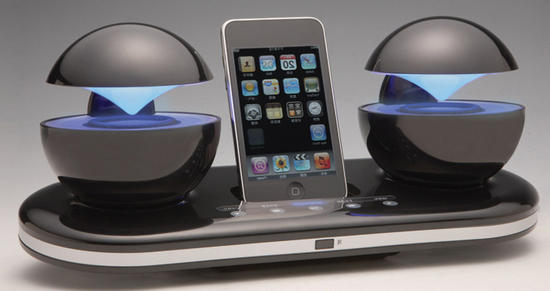 Hailed as the Best of Show Award Finalist by iLounge at the Consumer Electronics Show 2010, the "iCrystal" by Speakal is one of the most innovative iPod/iPhone docking stations that integrate a pair of backlit omnidirectional speaker pods with an illuminated teardrop shedding a gentle blue ambiance around its rim. Powered by four AA batteries, the R/C controlled dock also touts onboard-humanized touch controls to alter volume and tracks with minimum fuss.
Furthermore, the docking station expands its range beyond iPod/iPhone, thanks to the 3.5mm input, to gaming consoles, TVs and other music devices to enhance the experience of the user. The iCrystal is available in white, black and red colors for $80. To quote David Solomon, the CEO of Speakal,
Functionality has always been a crucial aspect to successful product design, but now more than ever consumers demand solutions that deliver as much style as they do function. iCrystal perfectly complements modern design elements with its decorative accents and stylish sound. It promises to be an interesting discussion piece for the contemporary home.