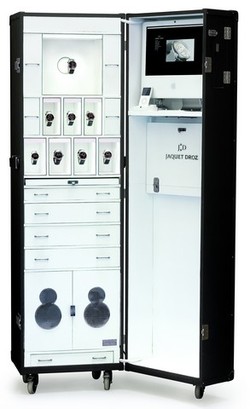 Jaquet – Droz, the manufacturer of exquisite watches has asked the artisan Pinel & Pinel for an exclusive trunk for collectors. The Jaquet Droz timepieces involving travel are marked with signs, meters and 'measure on different zones'.
The Pinel & Pinel designed trunks will be an example of contemporary luxury, travel and mobility.
The trunk would be 1.5m high, the exterior of leather ebony with white leathered interior with eight Jaquet – Droz 'Black Absolute' watches. The new 'Black Absolute' range of watches are numbered '00', have bracelets interchangeable and rotating winding machines for timepieces. The trunk has small storage space, an Imac 17 inches, an Ipod of 80GB and Harmon Kardon sound system.
The piece is handmade and unique in the world of travel.
Source & Image: Le blog Luxe