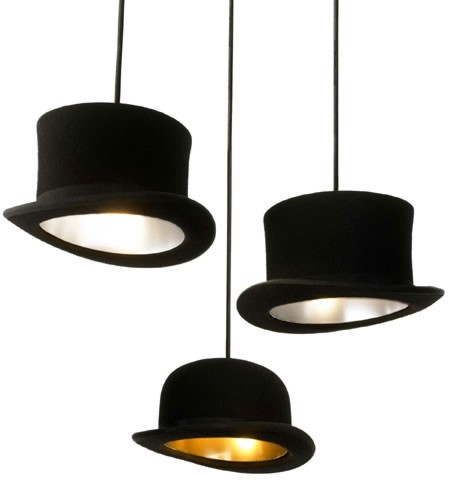 British designer Jake Phipps has relived the beauty of the vintage era with his latest Jeeves and Wooster Pendant Lights series. The elegant pendant lights are more than just lighting fixtures. They are the perfect reflection of the classic British culture.
The Jeeves is a bowler hat which is lined in refined gold interior while the Wooster is a top hat with a silver interior. Black wool felt is used as the exterior material for both the hats. Fire-rated polycarbonate diffuser and brass electrical fittings assure the safety of these pendant lights. The source of illumination is a built-in 60 watt bayonet cap round soft light bulb. A cord with standard ceiling fitting comes with each light.
The Jeeves carries a price tag of £210.00 per light while the Wooster sells for £225.00 each.
The range is availabe at Hidden Art.