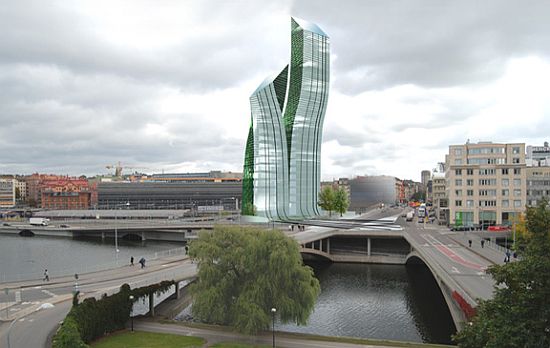 Swedish architects are ready to question the notion that their country boasts of little in the way of progressive infrastructure. It is about time that the country came out of its building inertia and pushed right ahead, they say. Kungsbroskrapan is more than just a tongue twisting name; it is a proposed new skyscraper in the heart of Stockholm. Proposed last year, Kungsbroskrapan's conception is to the credit of RB Arkitektur – a company engaged in field of contemporary and innovative architecture. The international design magazine recognized their aptitude by listing RB Arkitektur in its Architects Directory: 101 of the world's most exciting new architects.
But going back to Kungsbroskrapan (funny sentence coz it is still a concept), the building is envisaged as a bit of progressive architecture that'd present Sweden in a new light. Kungsbroskrapan is proposed to be built beside the main railway station, at the shore of Klara Lake. The 30-storey building will include apartments and offices and will be located where the Kungsgatan street meets the bridge Kungsbron. This strategic location has been due thought by RB Arkitektur, who intend to capture the flow of passing rail traffic in the design of the building itself. The skyscraper will rise as a parallel structure for sometime before it will divide into two distinct parts – much like a railway track that branches off into a side track. One of these parts continues its ascent but the other branches to face waterworks.
So much for the proposal, it's time for a bit of reflection. The image, apparently rendered by a computer, looks quite out of sync with the environment around. Grotesque would be extreme, but quite close to the truth when you impartially assess the concept. There's a word that would make it all clear. Yes, disharmonious! Chances are such a radical project wouldn't shape up in the first place and yet if it does, maybe the surroundings will change to keep up with the pace. Kungsbroskrapan looks futuristic but the conditions do not. Ugliness is a contextual argument; changes the context, fit Kungsbroskrapan in a more urban environ and you may still have a winner. In the present location though, I've my doubts.
Via: Rbarkitektur