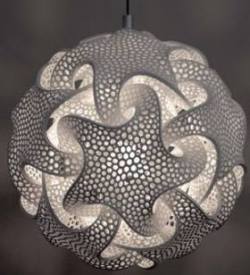 The latest trends point to luminaries with 3D effects. If you want your house to look chic, modern and amazingly stylish, you simply can't avoid The Lampe Quin designed by Quin Bathsheba Grossman.
The Quin Pendant in the accompanying picture is a halogen lamp, spherical in shape, with an intricate net-like appearance, and gives the impression of a whole lot of starfishes entwined with each other! You can hang it from your ceiling wherever you want in your room, and it is sure to transform your room and draw all eyes to it.

You also have a choice between Quin Sconce and Flame Pendant, one more beautiful than the other. It's the perfect gift for your near and dear ones and for yourself too!