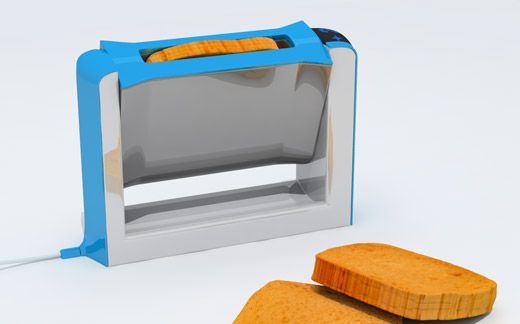 I hate making toasts in the morning because when I am half awake, I often end up burning my fingers. So, I usually end up eating unbaked bread, it's not that bad actually.
I actually love the taste of unbaked bread (like I have any option) but if you are just like me but don't like the taste of it, then you'll love this concept. It's called 'toast one' and it is specially made for people like me (bet that designer is one among us) who usually burn their fingers while toasting bread slices.
It's simple yet effective, just flip it. Wait, not asking you to flip your toaster but this concept toaster can flip itself to pop up (down?) the baked hot bread slice onto your plate. Just like any simple toaster you have to add a slice of bread to it (yes, there's no other way around you lazy fellow) and then you set a timer. Once it's done it will flash and beep, then you must place a plate near it and then flip it.
It was disappointing to know that it won't flip the toast itself, but that's just the lazy me. But seriously, it will be better if it had a drop plate and auto-flip options. That can make this concept as easy as sleeping (yes, I am lazy).
Via: martin.zampach