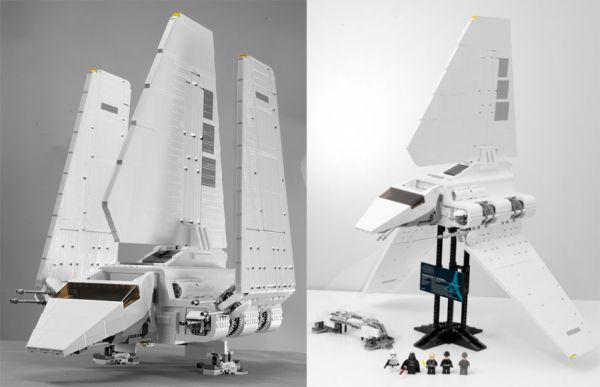 This is not a child's play; that's for sure. Lego has long been regarded as the building blocks for various fantasies by children. Well, this time the case seems to be different. Lego has come up with a beautiful intricately designed Star Wars Imperial Shuttle. Made out of, well you guessed it, Lego pieces, this astounding piece of art is one decorative item. Made by using 2500+ pieces of Lego, this structure has loads to offer where eye candy is concerned.
As you can guess by now, the mini piece Lego contraption has been released just a few months back. Not only is the spaceship included in the price being charged, but also Darth Vader, Shuttle Pilot, Imperial Officer, Stromtrooper, and Luke Skywalker come along with the package.
Intricate details have been given great value, for the structure has been assembled to reach a height of 28" and around 22" when the wings are in full shape. Let your wildest fantasies come to the fore. Imagine yourself to be in space, in this cool, larger than life contraption. Seat your crew in the cockpit, or simply make the wings flap open and close. Live your fantasies and let your mind astray.It's not quite often one gets to be a kid all over again. You can avail of this magnificent piece on Amazon for a price of just $260.
Via: TechnaBob