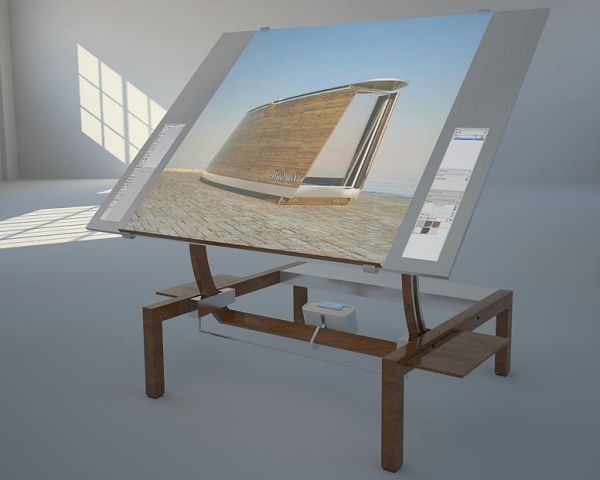 When you think of an architect working in his or her office, the image of a work desk will surely come to your mind. Architects have to work hours on their office desk to conceptualize designs and to make them perfect. Keeping this in mind, gadgets like interactive drafting desktops have been introduced by A's Dream.
The inspiration of this interactive drafting desk has been derived from BendDesk. This is a great attempt to go back to spirit of "draw by hand" and to take a u-turn to the Robotron Reiss desks. However, not everything is the same, as there is no need of black ink or Rotringo's to make the sketches and to do the work. All that you will need is power and a very comfortable seat to sit on and complete your work.
At many instances, you feel that you are somewhat away from the basic mechanics of the entire creative process. All you do is that you knock the keyboard or flap the mouse. However, things change with this desk. Even though it seems like science fiction, but in reality the functions are all real.
The desk features a touchscreen work area. This implies that you can actually work with only your fingers on this desk. This works like a desktop surface. In the coming time, it is expected to be thinner and to consume a lot less energy. There is a camera, which captures the work done on the touch area and then sends it to your computer. Then a projector is used to display the information, creating a mutual relationship. The interactive desk also features panels, which are mounted onto the sides of the LCD that is touch-sensitive. This acts like an operating system control panel. The touchscreen work area is angled in such a way that it appears like an actual drafting table used by architects in their office.
This interactive desk comprise of many other components, which renders beautiful looks as well as amazing functions. It is made up with micro-schemes, steel, wood and even organic glass. However, it is not just about these things, as it encompasses a lot more within. This means that drafting will be a lot more easier for the architects now.
Via: Match-box