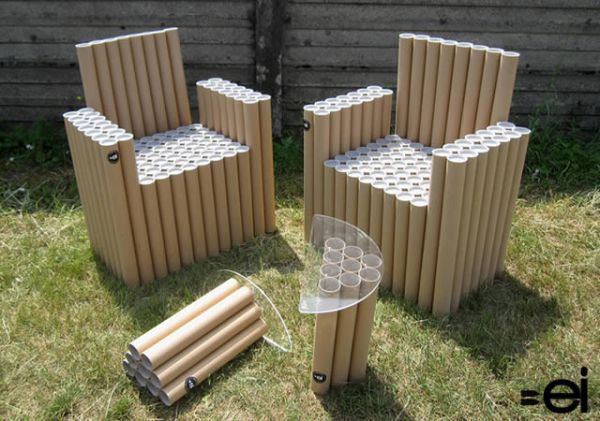 Italian artists, Paola Argine and Cristina Alzati of the incredible design studio double-ei, have found a novel way of putting cardboard tubes leftover from paper towel rolls to good use. Generally, these leftover tubes are discarded and thrown into the bin or go through a recycling process, but the energy cost of making them useful again far outweighs the lifespan of the product. The FanTubes project, however, finds a more immediate solution to the problem by using these cardboard tubes in the form that they exist to make useful furniture out of them.
The set of two tables and three chairs has been made out of 300 cardboard tubes of various heights that are held together by wire and plexiglass. Made entirely by hand, the design is simple to look at and should be almost comfortable to use, if you plan on living in a place that doesn't receive much rainfall.
The main appeal of the design lies in its unassuming simplicity that draws attention to the sphere of recycling and highlights re-purposing of existing "household waste" into products that are both commercially viable as well as aesthetically appealing. The creation was handcrafted specially for a design event held at the Palace Grand Hotel in Varese, Italy.
Via: The Closet