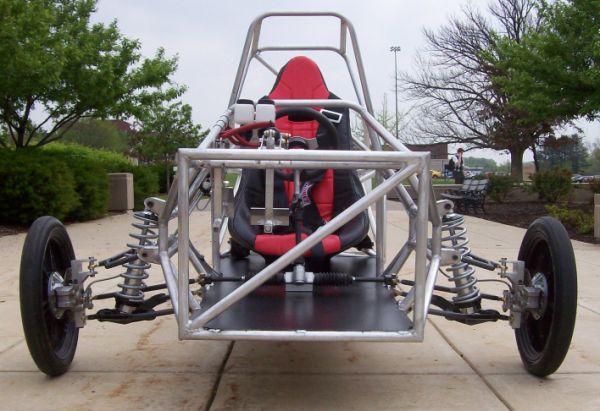 Developed by the students of Sue School of Engineering as a graduation project, the Solar Car Chasis as its name depict is a sustainable racing car that includes a frame, suspension, control arms, spindle, hub and wheels.
The design is made of 1″OD 1/8″ wall 6061 aluminum. Aluminum was selected over chrome-molly steel, as it has greater strength to weight ratio. The skeletal frame of the sports car reduces stress concentrations and dangerous deformations around the driver. Another aspect of the design is a small frontal area to reduce wind resistance. The front has an economic shape to safeguard the project.
Designed to keep the center of gravity slightly ahead of it's neural point, the vehicle has low polar moment of inertia to turn it quickly on sharp curves. Steering wheel is removable, and meets Ackerman conditions for all steering angles up to 10 deg and close to Ackerman up to 35 deg. Fflexible seating arrangement provides enough space for the driver to ensure a safe and comfy ride.
Getting in and out of the car is easy.The wheels (both the front and rear) are welded by experienced fabricators. The pedals on both the right and left side are adjustable. The suspension has appropriate stiffness, flexibility, clean non-binding movements and low inertia to give this race car an edge over other models.
Developed with the help of D&R machine Co, the project came out effectively with all the elements as per the plan. The project was selected for the Senior show case after scrutinization. Modeled as a racing car, the Solar Car Chasis can function as a landscaper, builder and can be used in malls.
Via: SolarGeek