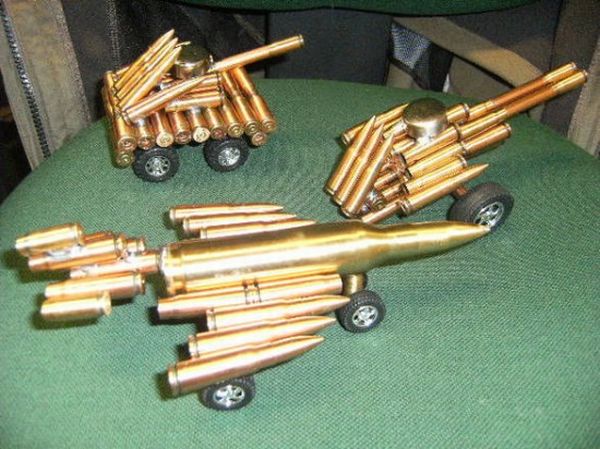 The ordinary:
Children are crazy about toys and making good use of this fact is a souvenir shop in the city of Siena. But if you are thinking what is so special about this shop and the toys it sells then read ahead. The shop has stocked up toys like attack planes, guns and tanks for children. Wait before you yawn and think this is nothing unusual then let me tell you that all the toys have been crafted out of AK-47 bullets.

The store also puts up for sale decorative items that have been made after pulling together actual AK-47 bullets. Wow! But this doesn't end here. The store also stocks Chinese military caps and bullet-pierced helmets. Each unit comes with a price tag of €10.
Inspiration:
A warehouse in Florence provided the Chinese owner of the shop with these fatal products. Military deposits in mainland China are supposed to be a hub for such raw materials. They were supposedly acquired from there at almost no price and shipped to make these toys. The basic idea was to make toys without distorting the original shape of the live bullets, which is quite an ingenious conception.
The extraordinary:
Normally wood, metal or plastic is used to craft products but the concept to use AK-47 bullets as the raw material is truly exceptional and witty. Whoever came to purchase the products crafted out of live bullets was unaware of the fact that what has gone into making it. Most of them hardly had any knowledge when it came to guns therefore they failed to weigh the danger that came coated with it. The most extraordinary part being that real bullets were put to use by the maker instead of a replica or shells of used bullets.
Usage:
The products crafted out of real bullets can be used as an ornamental item. It can be placed in an office as well as homes. Giving it to children without any parental guidance can prove to fatal. The amusing item can also be kept in a museum where it can be relished by a lot of visitors.
Bottomline:
The toys made out of AK-47 bullets can be given to children so that they can play with them, but the whole idea may prove to be dangerous. Since, children are naughty and have a habit of throwing their toys while playing, if they slam one of the bullet toys with full force on a hard surface what happens next can be the worst nightmare possible. So, in any case parental guidance is very important. But the products crafted out of these live bullets can be best put to use in the form of decorative pieces.