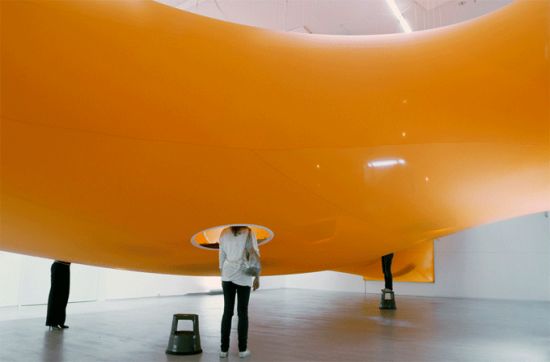 Berlin's Magma Architecture Head-In/im kopf at the Berlinische Galerie, Museum for Contemporary Art as a part of the JETZT/NOW series of temporary installations is sure to titillate your architectural and intellectual senses. This entrant has won a lot of awards in the exhibition. It is a suspended sculpture. At first glance you might mistake the orange polyamide-elastin-fibred fabric ambience for some NASA space venture. You pop in your head into the fabric chamber through circular openings and experience the color, form and spatial arrangements of the various exhibits that consist of finished as well as yet-to-be-completed projects of the company that portray the process of exploring and refining form. The orange color of the fabric diffuses light in such a way that all the exhibits, big and small come into the span of your attention. Moreover, the architecture seems to aim at focusing on maximum observer attention. You need to experience the head-in to appreciate its evolving space design.
The head-in entry symbolizes your entering the head of an architect and viewing the exhibition from the point of view of the architect and then forming your own perception through your experiences. Simply an idea par excellence isn't it? This project won the award for conceptual continuity. The conceptual head-in is represented by the physical head-in in a beautiful way giving the project conceptual continuity.
Architect Lena Kleinheinz and Martin Ostermann established Magma in 2003.It is known for its innovative works on form, color and material. The head-in project credit goes to Anke Noske, Hendrik Bohle, Dominik Jörg, Lena Kleinheine, Ksenia Kagler, Yohko Mizushima, Lena Kleinheinz, Martin Ostermann and Ben Reynolds.


Via: The CoolHunter