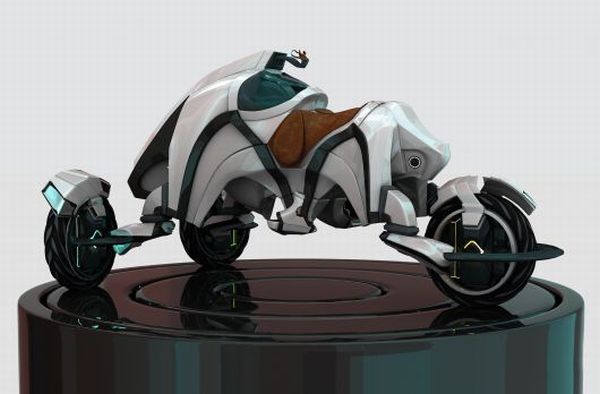 Attila Tari is really a talented artist. Before he delved into industrial and product design, he was studying to be a biologist. This astonishingly raw three-wheeler concept really showcases his interest in evolution. Christened The Saddle, the Michelin inspired trike concept draws much from the anatomy and psyche of horses in their natural habitat. Untamed, unabashed and bestowed with all of nature's bountiful glory- these are the qualities that immediately pop into one's head when one imagines a horse galloping in the wild and that is the exact sentiment that this beauty evokes.
On the mechanics side, the all-terrain vehicle's most unique attribute has to be the innovative navigation system. The system basically comprises of a singular control that commands all the three wheels centrally. Yet, each wheel can be manipulated to function independently. Just in the same way, you would control a horse's movement in rough terrain. The Saddle too allows the driver a greater degree of dexterity in difficult road conditions.
The new control system uses powering solutions from current technologies used by electric cars along with Michelin's active wheel technology which gives this design concept an eco friendly edge. The body of the trike itself has been created to mimic the contours of a horse's back. This allows the rider to maintain a proper posture while using the vehicle which re-emphasize the natural inspiration behind the vehicle.
Via: Mototype