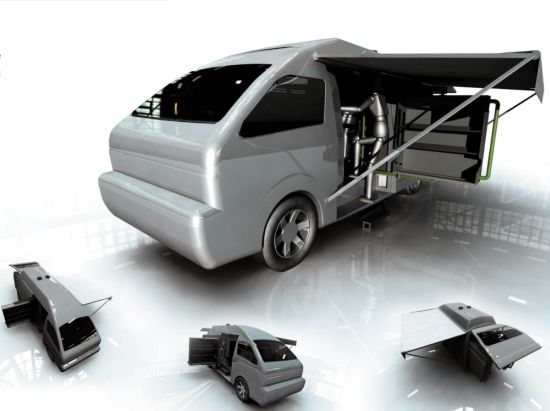 Designed by Jacobus Marx, the moBib is a library on wheels, which comes equipped with state-of-the-art features. The easy accessibility of the mobile library is courtesy of the donor vehicle's large entrances. When compared with the current vehicles, the side entrance for the moBib is approximately 40 percent larger and the rear is 26 percent larger. There are steps for side and rear entrance, and you will find handrails on both the sides. The movable shelves are the core of the design. They not only increase the library's capacity to hold books but also make it possible to serve more patrons at once. The shelf mechanism consists of a hinged arm, with a shelf attached to a revolving bracket sliding in the groove of the arm by means of a nylon wheel. A track on the floor, along with a peg on the shelf, guides the shelf into the right position and locks it in place with the aid of a latch on the other end of the shelf.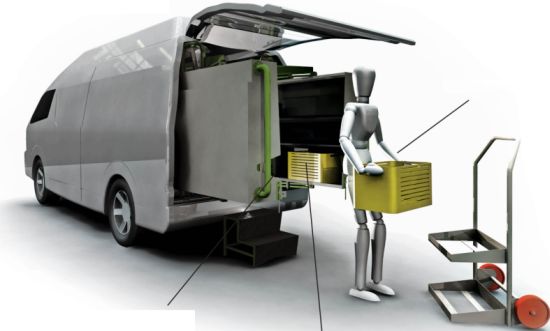 Shelves are designed to fulfill all the functions, including storing as many books as possible, presenting the books in an accessible way and keeping the books firmly in place when the library hits the road. The moBib can accommodate between 1400 and 1800 books. The shelves, which are resistant to wear and corrosion, are easily adjustable for height and spacing through a system of aluminum shelves and nylon brackets into which the shelves slide. Proper attention has been paid to interior spacing. The raised fiber glass roof offers the much needed headroom.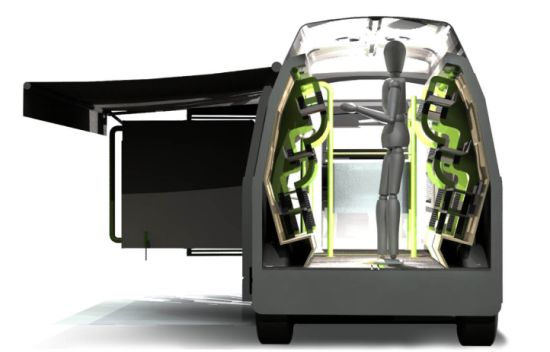 Rounded shapes and lack of sharp edges help prevent possible injuries while moving inside the vehicle. The workstation is placed in such a way that it takes a minimum of space. The movement of patrons is aided by two entrances and a well-positioned workstation for the operator. The workstation seat is actually the middle seat of the vehicle turned around. Thus, no extra space is taken.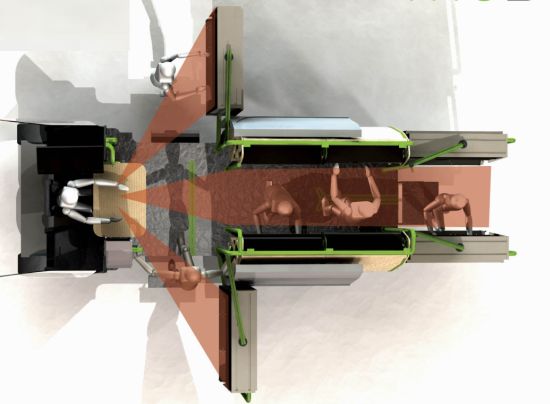 The workstation comes fitted with storage shelves for issue trays, books and stationary. When all the entrances are open and all shelves deployed, the moBib provides comfortable access to shelves for up to eight adults. One of the shelves at the rear can be used as a checkout counter in order to improve on security.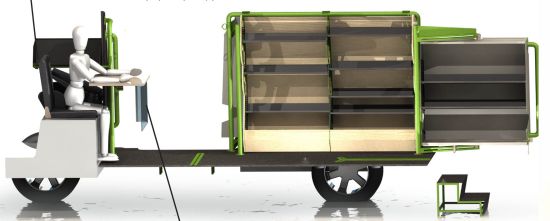 Lighting inside the library has been improved through the use of LED technology. Adequate lighting is supplied by light fixtures on the roof combined with natural light from entrances and the windows in the cabin.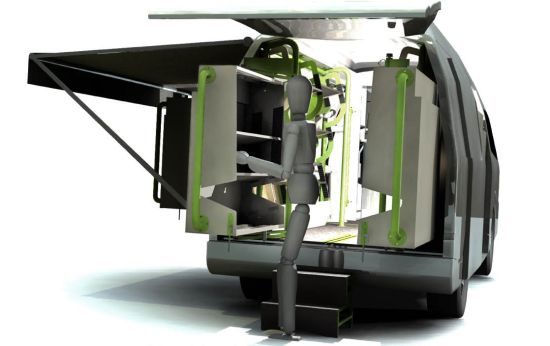 All the moving parts of the library can be locked in place with simple latches to prevent them from moving when the vehicle is out on the road. All the movable shelves of the moBib mobile library can be attached or detached by means of a simple quick-release mechanism.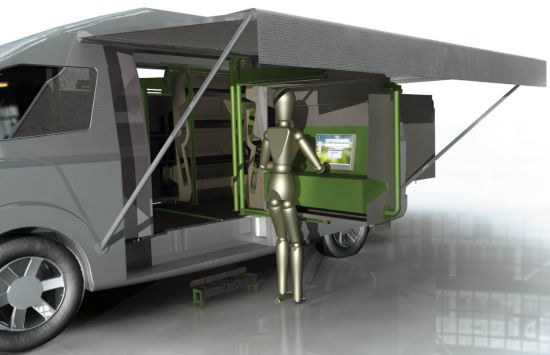 The extra space provided by movable shelves opens up the possibilities of incorporating PC workstations or other devices, such as LCD screens for video screening.
Thanks, Jacobus Marx