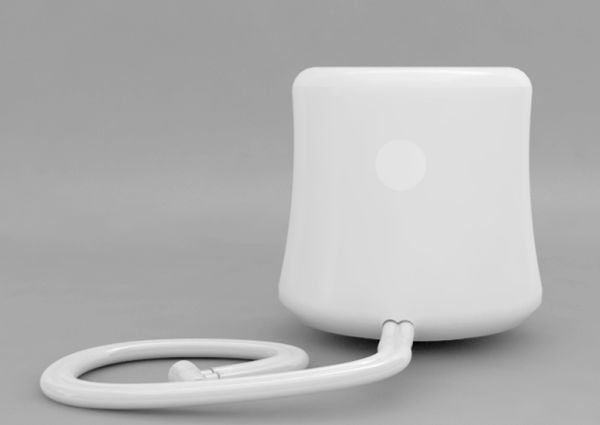 Dishwashers have always been associated with a large size. Shrinking household spaces have cut down the size of kitchens as well which don't allow additional space for such a large appliance. But, fret no more, as Daniel Simonini, Cristina Perdikaki and Giorgio Bonaguro have come up with a cute yet clean solution in the form of the Mono Dishwasher.
The concept will prove to be a blessing for small families, where a lot of utensils are not dropped into the sink for cleaning. The dishwasher is portable and simple to use, and will thus rank high on the user-friendliness graph. The designer has fetched heavy inspiration from sea sponges to craft the outline of Mono Dishwasher.
The sleek shape of the device vows to fit into any dwelling or exterior space without acting as a hindrance. But don't underestimate its small size as the power-packed washing device will work at a good speed. The surface has been fitted with four touch sensitive buttons. It will also endow the user with the flexibility to choose from two cleaning cycles.
The heavy cycle application can be used for dishes like plates and serving bowls while the light one will be used for washing cups and glasses. You simply will have to attach the dishwasher to a water connection through the exterior cables to make your utensils spotless. The water pressure will not only clean the dishes, but also charge the system's bio-battery.
This will cut energy consumption and save on precious resources, thus making this product sustainable. The Mono Dishwasher is a great way to save water and space. It will help befriend the environment and save it from further deterioration.
[Thanks Daniel]