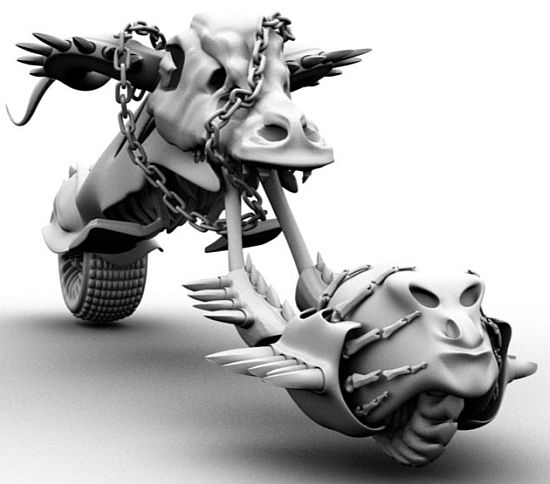 If you think Arlen Ness was out of his mind when he created this outrageous piece of motorcycle monstrosity, you would will be forgiven. And what will hit you like a tidal wave straight out of hell is the fact that this is a school project. How on earth will be your first reaction and goodness gracious just doesn't do justice to this work of lunatic insanity. More oxymorons will follow along with profane obscenities hurled at you if you ever hit the road with this very abstract work of extreme motorcyle design.
Move over Hell's angels. This high school concept has a ghost head shaped front mudguard which leads to the ultra raked front fork. There is a good old chained American buffalo head with half a jaw missing, snugly sitting in the place of a headlamp. Move on to see a partially covered tank replete with buffalo ribs and from here the dragon's fluid form and spikes take over nicely rounding, or rather spiking off the rear of this mad machine.
The front wheels look like dirt bike tyres and the rear wheel look like it has been lifted off from a big, butch SUV. And you sit on the low rider looking at the buffalo's backbone clinging on for dear life on the buffalo horns which double up as handlebars. And if any of you is insane enough to want to buy this piece of absolute insanity, hold you horses, an engine still hasn't gone into this beast of a design concept. If this concept ever makes it to the road, i promise, it will leave three year olds, very scared and 'very wet'. And coming to the anonymous school going student who created this hell of a manic concept, you sure will touch the sky.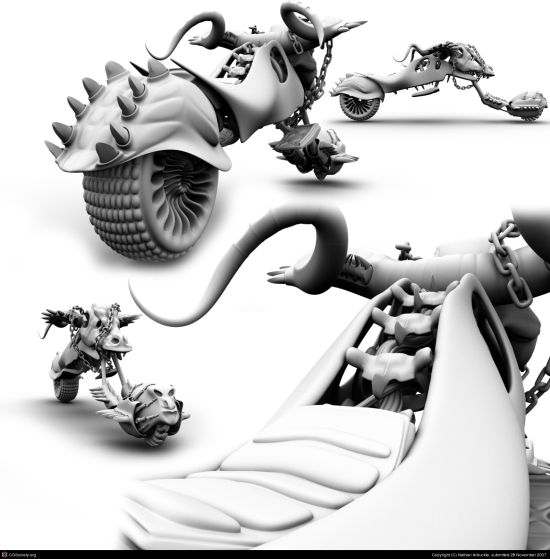 Source: AutoMotto