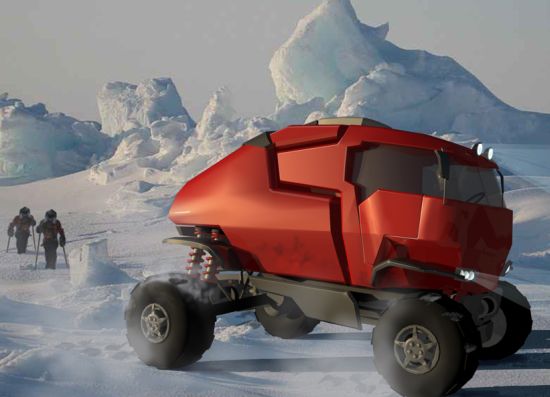 Polar expeditions put a heavy toll not only on the body of the visitors or researchers, but also on their vehicles. Intended toward polar expeditions, the "Expedition Truck" from Maarten Timmer Design studio, Rotterdam, is a heavy-duty (4×4) expedition vehicle designed with a relatively short wheelbase combined with large off-road tires, so it could conquer almost every obstacle on the expeditions with ease. The tire-pressure system makes it possible to adjust these tires for every surface the truck is riding on.
The three-person cabin is fully suspended, and the rally-like seats inside the cabin guarantee maximum comfort for the explorers during their long rides in the truck. The rear of the truck provides space for the research equipment and a compartment for the team to sleep and eat while being on an expedition.
Powered by a PACCAR 12.9 liter MX375 engine that is capable of producing a tremendous level of power, 510 bhp at 1,900 rpm and a torque level of 2,500 Nm at 1,400 rpm, the MTD Expedition Truck is suitable for all types of expeditions in harsh environments. The high-performance engine also features a special air-intake system to ensure excellent performances in the extreme conditions on the poles.
The combination of the high performance chassis and engine, with the comfortable cabin and rest compartment, makes this truck an ideal exploration vessel.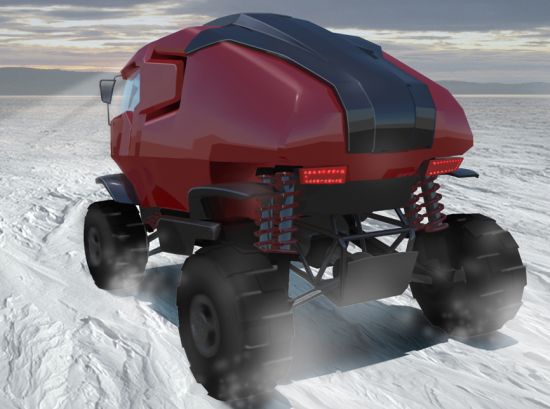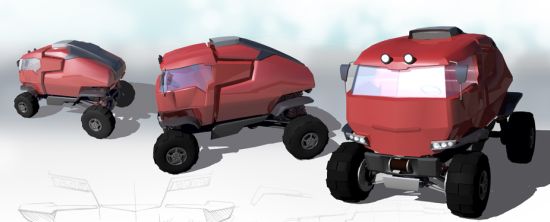 [Thanks Maarten]