Music is a universal language and it does influence human existence at all levels. Touted to be the most no-barrier kinda communication, it renders a pleasant and healing experience. And to epitomize this Sound Bed is the most ideal paradigm of how modern science and medicine are rediscovering the healing powers of music. Intending to explore the relationship between body and sound, this big veena-like musical instrument is meant to for a holistic massage of the body, to achieve relaxation and integration. Also known as a flat monochord, this 2m meter long structure is meant for a person to lie on it while the strings are being played on from below to create a deep calming sound carpet. Such harmonious sounds can arrange water molecules in a perfect pattern, healing through sounds all the way down to the cell structure!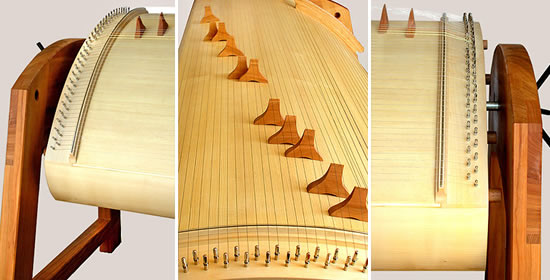 The exclusive acoustic sound experience of the complex harmony and the physical perception of the vibrations have a directly stimulating effect on the body. Moreover you can simply turn it over its axis by loosening four screws to play this luxurious polychord. The instrument can be played actively, for example with single bridges as a Koto, diatonic or chromatic tuned. Due to its curvy shape, you can also play it with a violin bow. The resonance body of the sound bed can be rotated along its axis with a few simple grips. On the one hand, the tuning pegs are exposed, and on the other hand it can be transformed into a separate music instrument with 60 strings.
Because of the sensing of the sound and the resonance, the focus shifts from the outer impulses to what happens inside oneself. It is also believed that it's not necessary to hear anything, so this therapy is even suitable for deaf people.