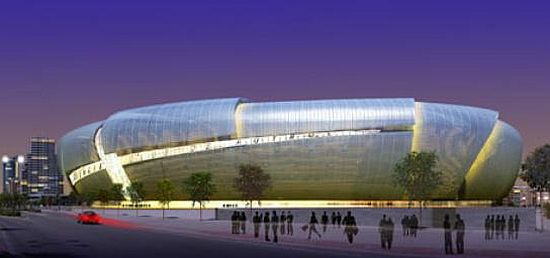 Valencia CF – back in 2005-06 – decided to make its new home in North-West of the city. Their aim was simple: 'to build the greatest stadium in the world'. The new stadium was christened The Nou Mestalla, and it hopes to get inaugurated in 2009, in time to host the 2009-2010 season. Being built on an area of 90,000 sq meters, having a capacity of 75,000 and a location on city's major routes (Avenida de las Cortes Valencianas), needless to say, The Nou Mestalla will go on to see a Champions League Final or two.
Footballing considerations having been dealt with, lets take a closer look at the designing considerations of the new stadium, which by the way is being designed by Arup Sport (architectural design, structural, mechanical and fire engineering) and Reid Fenwick Associates (RFA) of the UK. The three-tiered stadium will have an exterior that is modeled on the city of Valencia itself; large aluminum segments on the façade will represent the details like different areas of the city, even River Turia.
Stylish and original, the Nou Mestalla will surely join the ranks of some of the world's elite clubs. And as far as facilities are concerned, the stadium will feature UEFA and FIFA five-star facilities. Everything – the changing rooms, press areas, 3,000sq meter restaurant, eight coffee corners, and so on and so forth – will be state-of-the-art. Adequate parking spaces, seating with view, interior shops – public will be well taken care of in the Nou Mestalla. A designing marvel among various stadia in Europe, Valencia CF's new home has a geometric design that allows structural elements of the roof to be incorporated in the top tier. At the same time, the lowest tier has an option to be reconfigured to add a bit of track and then the Nou Mestalla would be ready to host athletic events, albeit with reduced seating.
Every interested party: the press, the fans, the visitors, and of course the ubiquitous VIPs have been given due consideration. The wonderful design also incorporates external services to the building including Valencia CF club offices, club museum, stadium tours, club retail shop, and corporate events. The Nou Mestalla will surely rival the oomph of the old home of the club and hopefully nostalgia will go out of the window when the migration takes place. If only the club produces performance equaling the amazing stage that it will soon play on, the fans would cry joyously…
Via: Designbuild-network