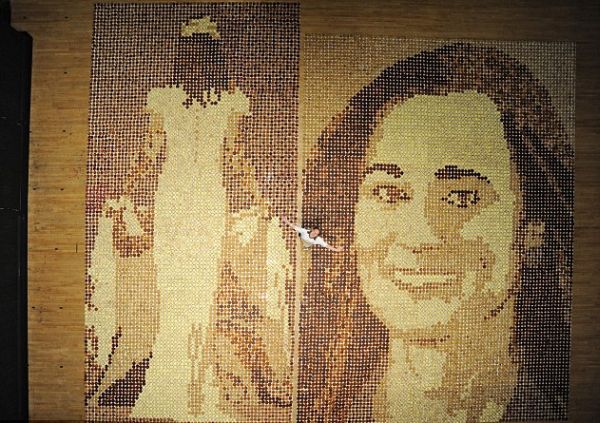 Pippa Middleton leaves no doubt as Britain's most famous bridesmaid and the possessor of the world's most famous derriere. In a unique tribute to this beautiful young lady, artist Laura Hadland has used over 15000 crumpets to create a mosaic of her face and her bottom in a replica of an evocative moment from her sister's wedding to Prince William. This unique tribute incorporates one of the most popular breakfast dishes of Britain, in a glance at the Beefeater Grill poll, which threw up Miss Middleton as the woman, most Britons would like to wake up to have breakfast with. The work, completed after a grueling twenty four hours of hard labor and total dedication, was truly an extraordinary piece of art, a tribute that Miss Middleton would have been proud to view.
The work attests to the popularity of the young lady who beat the likes of Fearne Cotton and Cheryl Cole to win the poll. She is an object of desire for most Britons including English cricket players, who had commented on Kate's stunning bridesmaid after the royal wedding. She has also swayed the posh Wimbledon crowd with her delectable wardrobe and public appearances. Among the two thousand people who voted in the poll, Pippa bagged 21% of the vote share thus topping the poll with a huge margin.
In what can also be called a tribute to the wry English sense of humor, the breakfast poll results were effectively conveyed to the world through the creation of this mosaic, made entirely out of crumpets. The world, following the younger Middleton's every move keenly, will surely welcome this tasty tribute. If reports are to be believed, the crumpets weighed more than a ton and over hundred spreads of jam were used among other breakfast favorites. This quintessential English tribute shall do no harm to Miss Middleton's standing as one of the most eligible maidens around. Pippa Middleton is undoubtedly the crowd's favorite and has even been accused of stealing the limelight at the royal wedding when the gathered crowd collectively got a glimpse of the sensation that was to become Pippa Middleton.
The mosaic has been created using the ingenious method of buttering crumpets and then fitting them in sort of jigsaw like pattern, giving the effect of the contours of Pippa's shapely face. The resulting portrait is a staggering 13 x 20 m and took nearly twenty four hours to complete by the artist and a dozen of helpers. The sheer labor, which has gone into this mosaic is a testament to the hold that Pippa Middleton has over the collective imagination of Britain. The inventiveness of the mosaic and the sly humor, with which it is underlined are something to note, while the scale of the work takes our breadth away. This portrait also is an indication of the ordinary Briton's fancies, and they are not quite so ordinary after all!
Via: Daily Mail