There is something about the Middle East and its amazing architecture. Every time you tell yourself that these guys could not go one better than what already exists, they are ready to spring the next big surprise on you. It is not just about the amazingly progressive designs or the immaculate modern green features of these sky-scrapers that stun you, but also the sheer understanding of modern architecture in this part of the world. It is an amalgamation of craft and science; an elegant mixture of style and substance!

Inspired by moving bubbles within a Champagne glass, the Pixel Tower is designed as a 21st Generation X tower for the young and trendy of Dubai. Situated at Dubai Waterfront, the residential building consists of 18 floors, is an imaginative and unique design to examine the quality of life through the appreciation of technology living and future aesthetics. Designed by James Law, the elevation of Pixel Tower is designed to be a sustainable facade where the geometry of the openings minimizes in the southern direction of the sun to minimize heat gain, and maximize in the northern direction of the sun to maximize views to the sea.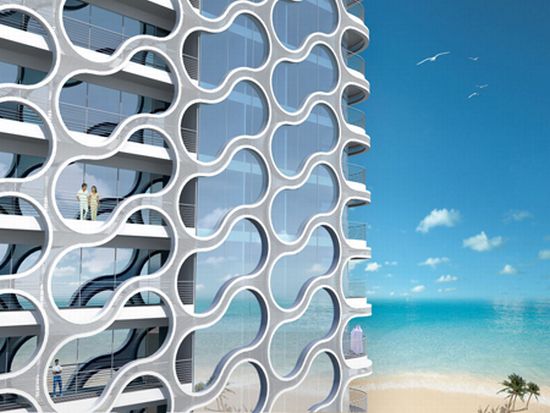 With the theme of young and lifestyle living, each apartment would incorporate the latest Cybertecture technology enabling residents to customize and control the appliances within the unit. The building encompasses its own customized high speed wireless internet communication system, residents are able to monitor and control their apartments even outside Pixel Tower through remote monitoring cameras that can be read from mobile phones and PDA devices. The building stands tall and elegant with its almost unique look and unmatched residential features. With such outstanding design, I suppose it is all set to house the rich and the famous.