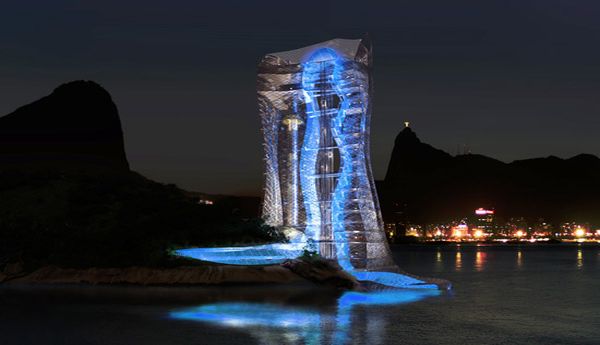 Lighthouses, to many of us, are reminiscent of those tall tower-like structures with a beacon mounted atop of them, which demarcate hazardous coastlines, signal out to ships at night, mark dangerous reefs and shoals and ensure safe entries towards harbors. The towers also aid in aerial navigation. The simple architectural design of the standard lighthouse does not really fascinate us as a tourist spot. However, Mikou Design Studio will be transforming our entire perception of the traditional lighthouse by infusing it with new vigor and design – with its futuristic plan to build a mammoth structure in Rio de Janeiro (Brazil) called the "Lighthouse Tower".

The Lighthouse Tower is a very ambitious project with a design that is exquisite, but still serves the purpose of a modern-looking lighthouse. It is proposed to be constructed on an island off the coast of Rio called Cotunduba which will actually resemble an arch-like structure leading to the capital city of Rio de Janeiro. This amazing lighthouse can be visited by embarking on a jetty and will have various modern features, such as an auditorium, multitude observation points, skywalk, climbing tower, bungee jump platform, cafeteria, gyro drop, souvenir store, multi-usage area and urban balconies. The entire structure will be illuminated with the best and brightest lights (the use of LEDs is being considered).
The Lighthouse Tower when illuminated at night will not only excite your senses, but will also provide an awesome view of the sun-kissed city of Rio!
Via: eVolo