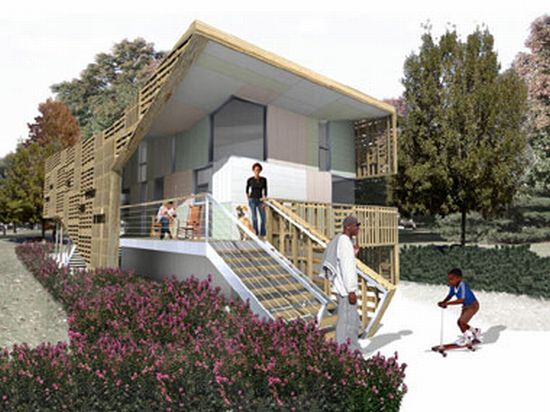 A couple of years back, Brad Pit convened a group of artists and designers to brainstorm and come up with greener and cheaper houses for the victims of Hurricane Katrina. His vision had MIR of the Lower 9th Ward, New Orleans bring together several architecture firms to design houses.Amongst these Pugh + Scrapa's Make it Right home seems to be so very different from the conventional designs that it might spark a paradigm shift. This design for a contemporary, modern home redefines the concept of home into a flexible and multidimensional space.
The nemesis of family members is often a lack of privacy under the common roof. MIR home takes care of that by dividing the house into several "zones": these are essentially aimed to create some sort of difference between the public and private spheres within a house. At the same time the design seeks to build a space in which the family members freely interact with each other.
Considering the source from which Pugh and Scrapa have been inspired with their design, it is easy to see how they have managed to harmonize these diverse objectives. The American patchwork quilting traditions – as shown in the Gee's bend abstract geometric style – form the basis for such a radically different vision of a house.
The green vision is carried through by strategically using recycled wooden pallets in the faced, lending their unique charm. These pallets are then joined using appealing perforated cement boards. It is quite obvious that both the aesthetic as well as cost-effective elements are given due weightage in designing this house. Pugh + Scrapa indeed makes it right! Gallery after jump.
Via: Arcspace