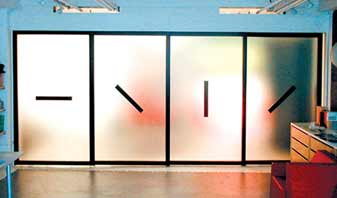 Raydoor is a sliding system designed by New York based furniture designer Luke Siegel way back in 2000.
Raydoor system consists of beautiful panels which permit light through them and at the same time decrease the sound transmission.
This panels can be used as a partition wall or as a door between two rooms. Taking the sliding system a little ahead, Raydoor panels can be used as a folding or a fixed partition, and can be used even as a pivoted door too.
The beautiful panels submerge in the elegance of your home or office, and at the same time present you the much need privacy.
Further details and the complete range of Raydoor system can be accessed here.