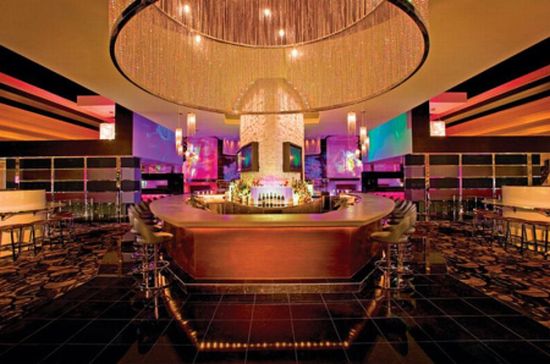 Situated at Mandalay Bay, the Eyecandy sound lounge & bar uses a high-tech weaving of interactive tables, revolutionary sound stations with touch-activated LED dance floor. It's a sensory overload, with exotic drinks and glamorous girls. Roger Parent, founder of Realisations.net and Tony Angotti, Mandalay Bay Director Food & Beverage have put their craniums together for a truly different experience of Las Vegas lounge in collaboration with Realisations.net (pioneer in touch-controlled technology and moving architecture). Using interactive multi-touch tables, guests can create visuals and messaging as well as project images onto screens above the dance floor.
Stationary and motorized cameras give a you a view of your neighbors and a three sound station lets you tap into your inner DJ with your iPod. Eyecandy also offers promo nights where guests can bring their personal music mix to play from their sound station and the DJ will integrate their play list into the dance floor mix.
Hours: eyecandy bar – 11 a.m. to 4 a.m. daily
Eyecandy sound lounge – 6 p.m. to 4 a.m. nightly
No cover charge. Non-smoking. Guests must be 21 years of age or older.
Via: Luxevegas