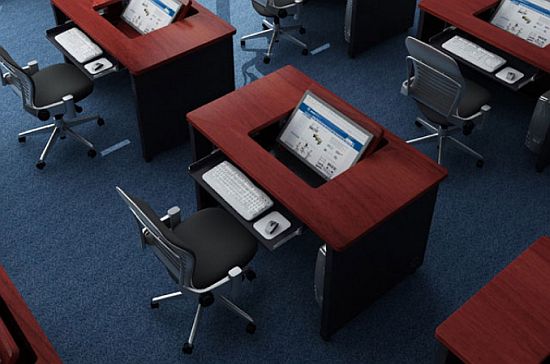 The first piece of furniture that is typically added to an office is a computer desk for your computer(s) and the paraphernalia that go with it. Don't you agree that the evolution of computers has completely transformed the way desks are designed? To suit our needs and style, even while at work, in today's day and age, Versa Tables has come up with the Revolution Desk. Combining the classic simplicity of a writing desk with the intricate functionality of a technologically advanced computer workstation, it is totally all in one complete solution. This innovative work furniture features a unique rotating panel surface, designed to hide a mounted computer monitor below the surface of the desk when the computer is not in use. Moreover you get a clear, frontward view even when the monitor is being used, due to its recessed design. By hiding the monitor below the surface, this desk combines the classic simplicity of a writing desk and the elegant functionality of a computer desk into one ingenious unit. I hope my boss is wowed by this kinda set up and considers of re-doing our workplace interiors.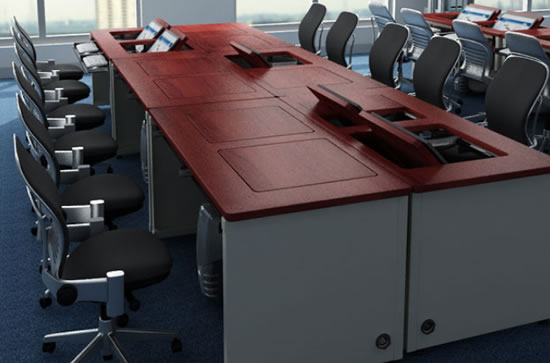 However some workers may not approve of this as that little bit of privacy that one gets (by hiding) behind the screen can be helpful at times. Don't get naughty ideas! Getting back to this product, let me tell you that it is offered in three sizes of 48″, 60″ and 72″. The 21″ x 21″ rotating panel provides enough space to mount even a widescreen 19″ monitor with ease, while the included keyboard drawer retracts completely below the surface. The solid steel keyboard tray doubles as the flip-up mechanism which controls the monitor's smooth rotation from its hideaway under the surface to its ergonomic, user location atop the desk.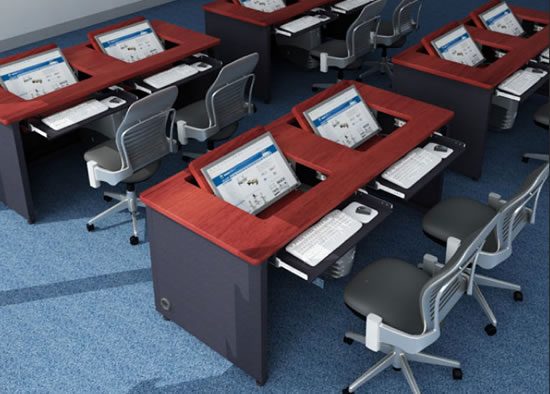 Due to the semi-recessed viewing area, the Revolution Desk is the perfect solution for a classroom or training room environment because it leaves a clear view to the front of the room, even if the monitor is in use. An array of color options is available to choose from so that it blends perfectly with your interiors.