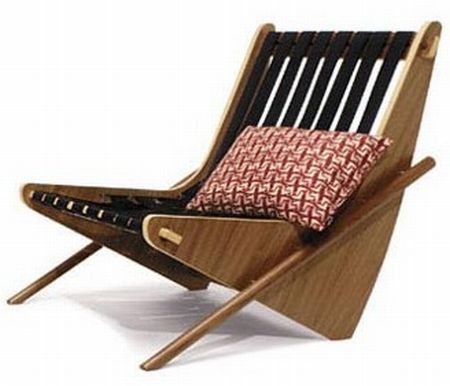 The Boomerang Chair was designed by Richard Neutra as a part of the interior furnishing of the San Pedro, Calif. Channel Heights Housing project that he had developed in 1942. The chair bears proof of Richard Neutra's belief that architecture should serve as a catalyst for social betterment.
The Boomerang Chair is uniquely designed with a veneered plywood frame and form-fitting woven web seating surface. With its uniquely designed structure, the Boomerang Chair lends an aesthetic touch to any home or office decor.
House Industries and Otto Design Group have decided to collaborate ( under the guidance of Dion Neutra) to make the Boomerang Chair more widely available, such that this rare specimen of Modern Furniture would be available even to those who did not own a Neutra home. The initial edition of Boomerang Chairs (comprising of 100 chairs) are extensively refined. Dion Neutra will be signing and numbering the chairs and they would be exclusively distributed by House Industries.
The Boomerang Chair is 25.5′ wide, 31.5′ deep and 29.75′ high. The chair is available in either maple or genuine walnut finish. The organic foam in the chair and its simple yet charming design makes it a sleek addition to any home or office.
The Boomerang chair has been developed with the goal of seamlessly blending it with any home or business decor. The uniquely shaped frame, form-fitting woven seating surface, organic foam, the attractive designs and the simple construction makes the Boomerang Chair an ideal element in any business or home.
Source: Bonluxat