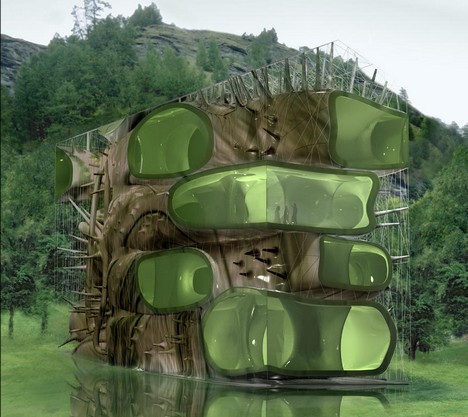 This may look like a weird mass of land or some kind of monster to you but this is actually a design under construction. What is it? Well, it is an idea of a French architecture firm R&Sie(n) for a Swiss ice museum. Yes, you may say that this doesn't relate to ice anyhow and I will agree with you. This definitely looks weird and only the designers is responsible for it.
However, what interests me more then the design is the process of building. The head architect Francois Roche has managed a special 5-axis CNC machine that can work a 5-meter by 40-meter area, and what is surprising is that the museum will be constructed on the site, like a card house you make, putting in card by card. The museum will make use of locally-harvested trees around the area.
If you still can't believe, this extract from the Architects Newsletter will help you do so —
To build the museum, which is currently in design development, Roche plans to take 1,000 locally harvested trees, turn them into plywood, and mill them into fragments 2.5 meters wide by 7 meters long. These vertical 'slices,' each 90 centimeters deep, will serve as the structural system, holding mechanical services within their depth. Assembled like a loaf of bread on site, the slices will be glued together with a resin system and wooden dowels (code-required concrete is used only in the elevator core). And it's all generated directly from Roche's computer model, which in turn drives the milling machine.
For more updates that leave you wonder struck, keep checking this space.
Source: Core77