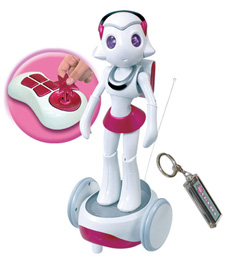 Gone are the days when people believed that one is fortunate to find a best friend in a lifetime because suddenly it is not such a rarity! Courtesy to technology, the concept of a "best friend" has been revamped. Sakura Robot is a girl's answer to the boy's GI Joe! Surprised? There is more to it.
This pink and white beautiful piece of technological architecture is designed to fulfill everything we expect from a best friend. She will save your secrets, lock them actually, no back-biting, will foretell fortune, will crack jokes, fill you with fun facts and touch-up your fashion know how! What's more? This new-age eulogist will compliment you till you drop and the best part is that she is not a threat to the boyfriend!
She comes with a hand-controller, can be fixed with batteries and also rides on a musical scooter. That ought to be every girl's dream! Now that is a technological boon, a friend tailor-made to your needs? Wonder when are they coming up with robot boyfriends? Keep wishing.
Via: Shiny Shiny