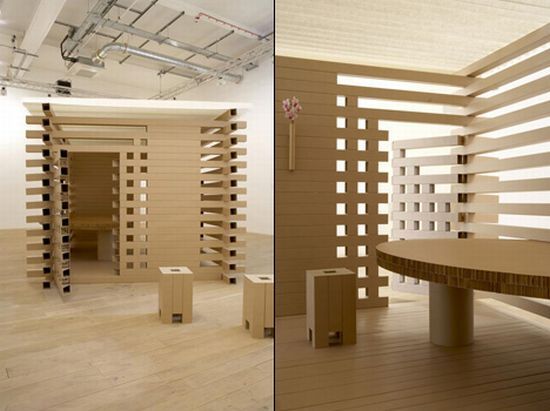 Without going in for an obvious practical piece of architectural triumph, the Paper Tea House definitely speaks voluminously about the use of paper in a versatile manner. Shigeru Ban, a very popular name in international structural design scenario, has made this beautiful and simple house with only paper tubes. Imitating and yet making a absolutely innovative structure of a Japanese tea house complete with table and four stools would take you for a wholesome glimpse of Japanese tea serving tradition. It also has a lively waiting area, furnished with a bench to wait ceremoniously for one's turn.
Belonging to Shigeru Ban's paper architecture series, this paper tea house embraces traditional Japanese culture with every hint of modernism in it. Sticking to the basics of structural designs, the world-famous architect has designed many recyclable and low-tech paper structures.
This paper tea house has been priced or rather estimated to be between 20 to 30 thousand pounds. This piece of architecture is going to be sold at Kyobai: The Art and Culture of Japan Sale.