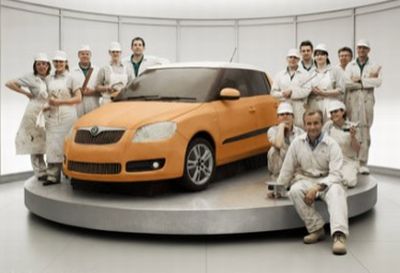 Here's a cake that is ought to catch your fancy in case you love cakes…and make you mad incase you are a car freak. Reference here is to the latest advertisement of Skoda Fabia, that brought together the confectioners across the country for a common cause and the cause was to erect a life size model of Skoda Fabia …not with wood…no, not even in plastic, not even with card board but flour, cream, sugar and rest of the ingredients that go in to make the yummiest of sponge cakes.
No wonders the car looks so tempting…I couldn't stop drooling…neither at the ad nor at the coupe, both of which are an equal eye candy. All I can do to help you take a guess at actual size of the cake…is to give you a detailed list of the ingredients which included:
10kg white chocolate chunks
20kg raisins
3kg orange peel strips
25kg dried apricot
12.5kg raspberry jam
5kg cocoa powder
100kg wheat flour
180 fresh eggs
100kg caster sugar
90kg brown sugar paste
50kg icing sugar
40kg black sugar paste
20kg glacier cherries
50kg white sugar paste
30kg brown almonds
42kg chocolate fudge
PHEW!!
The makers wanted to cut this cake at the end of the shoot and distribute it among schools, orphanages and like, but due to the perishable ingredients and the long hours of shoot, the idea failed.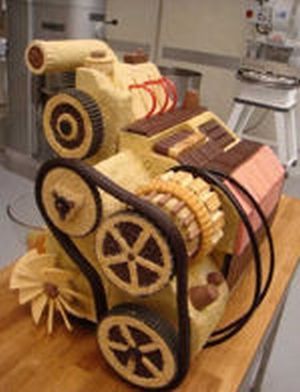 What more…the car also features an engine, that too a cake-y engine…aahh! Must say those who are pretty strict when it comes to a good engine, cannot find one better than this…what say?