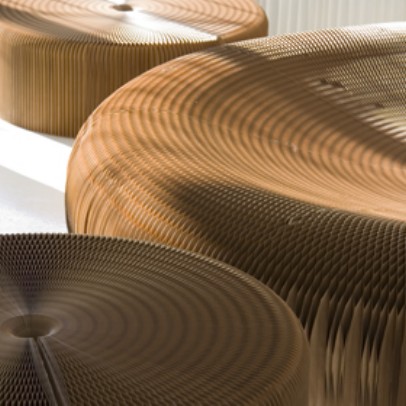 Vancouver based Todd MacAllen and Stephanie Forsythe merge their home into office and then office into manufacturing unit and then that into the home back in a span of few minutes!
No they are not comic superheroes or something but they have designed a material called as 'Softwall', an expandable divider that begins as about an inch-thick stack of folded paper but pulls off swiftly across a room in any desirable curvy pattern.
Softwall is a lightweight, freestanding partition made up of a flexible honeycomb structure. Softwall expands from less than 2 inches (5cm) to just over 20 inches(6m) in length and can be unfurled in any curved formation.

It's literally possible with Softwall that you role it and use it as a round bed during night and in morning unfurl your bed to erect a standing 6m long partition! This will especially give 100% space utilization in smaller apartments.
As mentioned earlier Todd and Stephanie use their 1000 square foot space in industrial area of Vancouver as home cum office cum manufacturing unit, along with 10 workers. The softwall now comes in two heights-six feet and four feet, with custom versions up to 10 feet. Prices range from $690 to $990.
Just amazing isn't it?

Source: HGTV