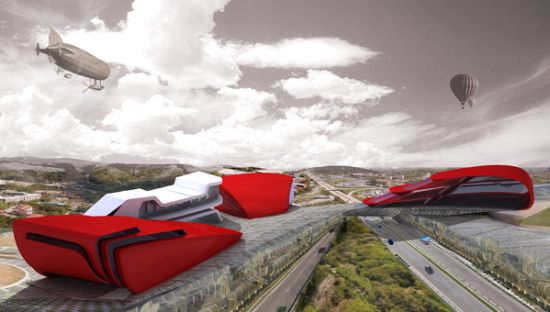 Designer: D'arc Studio.
The Stockholm Nordic Crescent addresses future development concerns with the Nacka Forum, which is placed beside a highway border. For the same, D'arc Studio has planned an integrated system between the area and the highway that connects the north side and south side by a social bridge that will be a part of a new infrastructural system. It's not just another bridge, but a kind of narrow square where you can walk, ride a bike or take rest on the wooden surface. This bridge will be developed as part of the main building, called the Multiarena, which is intended to be the highlight of the area. The Multiarena building houses an ice rink and sports hall, library, youth and elderly centers and football fields. The main square in the front has been divided in three parts by various functions and a ground pattern. This new public space will be developed by the foot of the new city Park of Järlahöjden. On the south side, it's linked by a pedestrian road and bike tracks, while the eastern part will feature private green areas. Shopping malls and the workshop will be on the south side, close to the Nacka Energy building.
The proposed museum and conference hall will house not only the traditional activities, but even an art school, a dance school, two restaurants and a shopping galleria. The southeast part is meant to be used for a 18-story office building, where they can have studios for private professionals, private companies and social services. Every space in the building has been planned to house various activities, so that it's possible to change the function in the future.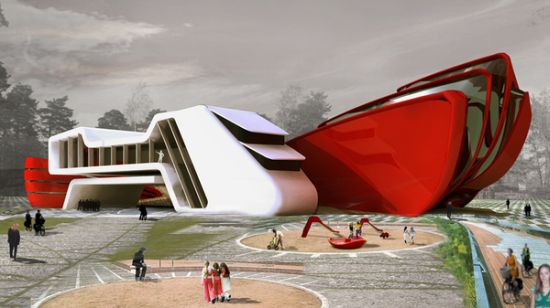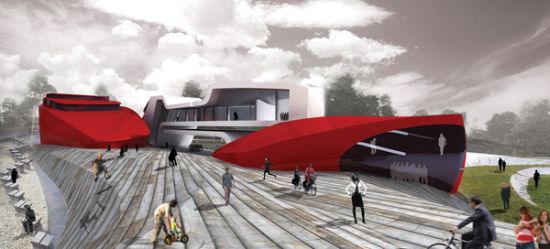 Via: D'arc Studio