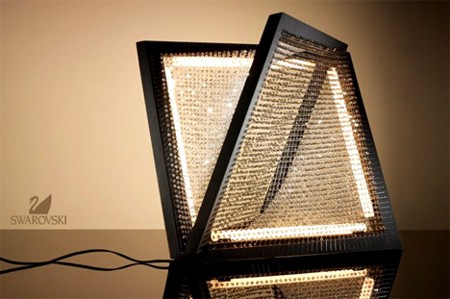 When one thinks of a chandelier, the instantaneous image that comes to mind is that of a lustrous object hanging proudly from the ceiling of his room. But Studio Dror breaks this perception by shelling out an unconventional Swarovski chandelier designed for the floors.
The chandelier consists of 6400 Swarovski crystals stranded together in a movable frame. The frame features a self-locking hinge and houses four incandescent bulbs on the inside of its walls. Each movement of the frame results in a glittering show of Swarovski magic.
The beauty of the Swarovski chandelier adds a magical touch to the ambiance of home. The floor layout of the chandelier also encourages one to engage into a playful session with the tempting crystals.