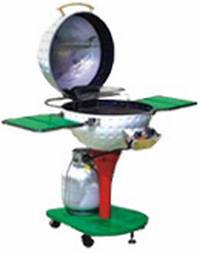 It is quite a tough job for the designers, to find up new and unique designs for the things used in our daily life. Everyone wants change and at the same time likes to decorate their home in a new style. Here is a product, Golf ball Barbeque Grill, which will immediately attract any golf lover. The Barbeque is uniquely designed in a shape of a golf ball that is very nicely teed up. It looks so neat and tidy and above all very cute when you compare it with the traditionally designed ugly looking large barbeques.
Above its cool and stylish look, you get a 363 sq. inches of cooking area too. That's really an amazing idea and if you are an expert in grilling, you will have a nice hold on this golf ball even if you don't know to play golf. It will give your open-air party an entirely different and wonderful appreciation. You can easily take this unit to your garden and enjoy your summer evenings or winter days in a new style.

It costs for $650. The grill has sufficient space to hold two chickens or a 15-pound turkey and with pause settings, you can keep the meat till it gets brown on the spit trey that is fit on the top of rotisserie and can be used for steaming products too.
Via: Nerdapproved