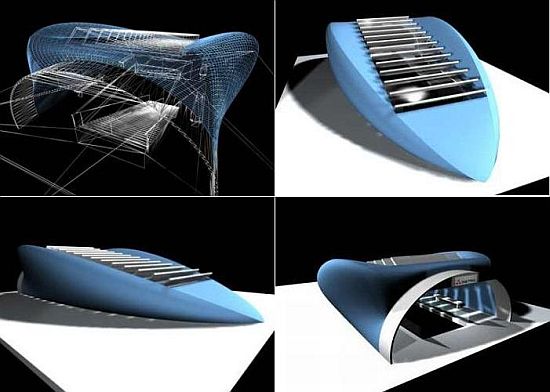 This futuristic design concept for a subway station is truly fantastic. It is not only visually aesthetic with its elliptical shape, but it is functionally appealing with its energy-efficient design, and its user-friendly displays. The concept for this design is born from the merging of two unique challenges: The 'impersonalized cold' feel of the usual subway stations, and the high energy consumption for lighting and ventilating subway systems. Another function which the designers hoped this design would fulfill is that it should not only be appealing and useful to the subway users, but also attractive to passers by who might wish to use its upper level seating as a rest area, or simply step in to admire its beauty.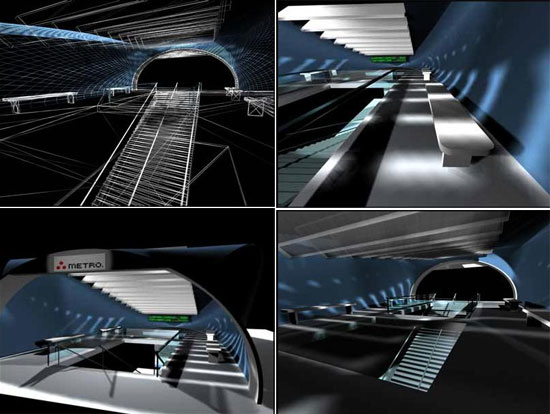 To achieve the aesthetics, the designers chose to make the station in an elliptical shape, that somewhat resembles a rowboat when viewed at certain angles. The rowboat resemblance is enhanced by the overhead glass louvers, which look like the horizontal crossbeams on rowboats. Apart from its shape, the choice of building material also makes this building visually appealing. The glass louvers referred to earlier form most of the roof of the station; the purpose of using a glass roof serves the purpose of aesthetics and economics, giving it the beauty of sky glass, while letting in natural light and saving on lighting costs. To increase the amount of natural light coming into the station, the design involves cutting gaps in the surrounding concrete pavement and filling them in with crystals, which also add to the overall visual appeal the designers were going for. The louvered glass ceiling also lets natural fresh air flow into the station, giving the cozy out-door feel, while saving on air conditioning costs. The louvers are opened and closed using motors which are connected to a computerized system that monitors external weather conditions and closes the louvers in case of rain, snow, and excess heat.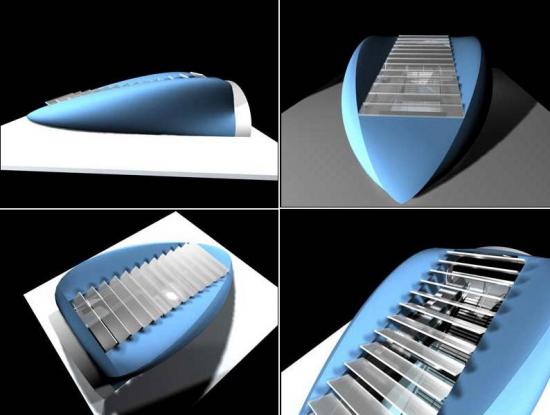 The final and most unique aspect of the appearance of this station design, one which will impress and baffle most people, is the complete absence of any vertical supports within the building, meaning there are no columns in the station, providing an uninterrupted field of view as well as unimpeded movement within the station. To achieve a design with no columns, the choice of building material was designated as the aluminum alloy duralumin, which is used in aircraft manufacture for its great strength and light weight. The station will be built out of large individual pieces cast in molds and assembled into the elliptical shape. This choice of building material is also expected to make the construction cheaper and faster by saving on the labor and time that would have been required for a concrete structure. The architecture of this subway station is very original and innovative, and once this design is implemented, it will most likely meet all the expectations that the creators had for it.