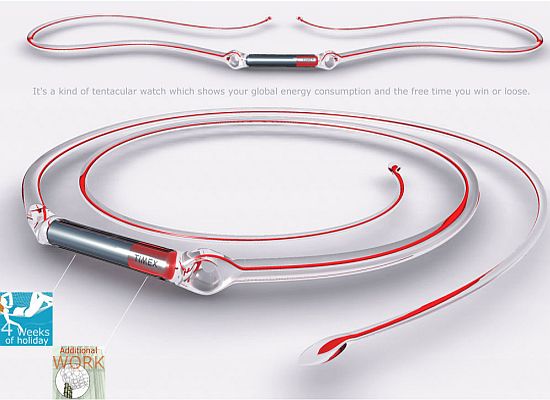 Talking about eco-conscience is one thing and actually sticking to an eco-regime is another. With an overdose of concepts and devices flowing to the reverie of sustainable development, not many take a step in that direction. When the idea of penalizing people for being irresponsible towards nature and energy consumption will dawn upon the law makers, Timex's Energistime concept could be one device that will ensure adherence. Timex global design competition was the platform where this concept bagged the first position and stunned all with its prophecy. Students of French origin Francois Gustin, Francois Laine and Nicolas Montabone churned out this design. With energy crisis already looming over mankind, Timex2154 packs the right feature to keep a check on the user's global energy usage.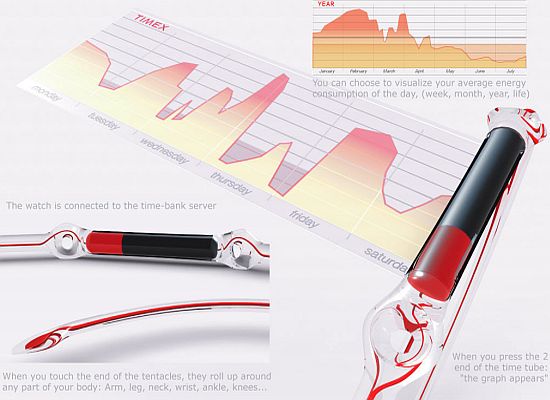 The enticing timepiece has tentacle-like straps which roll up to any part of one's body on having touched. The intelligent device will calculate the impact of one's ecological behavior and if found satisfactory, it will award free holiday time to the user. On the contrary, polluting behavior will become taxing as it would demand extra working hours. The cylindrical portion will reveal levels of free time earned. Like stock-exchange graphs; one can view his energy consumption in desirable chunks of days, week or months. The watch will feed and retrieve information from the time-bank server and pressing the 2 end of the time tube will pull up the graph.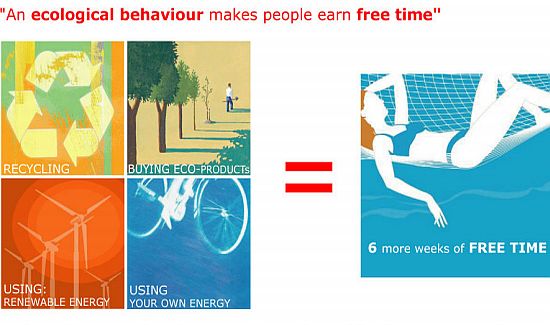 Simple acts like recycling, resorting to renewable sources of energy, pedaling one's way in city and buying eco-safe products will help in cashing one's eco-safe behavior in terms of extra vacation time. With high scores on beauty, the design envisages the idea of cleaner earth with an award/penalty system to keep humans on their toes for their own good.