Search Engine Optimization, which is generally known as SEO, is like a backbone for any online business. It is an essential digital marketing tool as it increases the visibility of your website. SEO brings more traffic to a site, which means it increases the chances of converting more prospects into customers. It also helps your website in gaining authority, which creates an impression that your website is relevant, trustworthy, and has high-quality content. Hence, SEO assists in giving customers a seamless and positive experience, which is why they return to your website often.
In this digital age, content creation has become significantly important. Video and audio content has gained immense popularity and isviewed by millions of people in no time. The majority of consumers use social media extensively, and businesses target their audience through video advertisements. Podcasting has also taken the digital world by storm and continues to grow. Transcription tools convert audio and video into a written transcript thatis accessible to SEO,and it uses it to determine the ranking of the website. The purpose of creating content using audio and video channel is to share it with more and more people. Here is where the transcription tool matters because a transcription tool convertsyour audio and video into text, which helps in your ranking of SEO. 
Following are some of the best transcription tools that will boost your SEO:
1. OTranscribe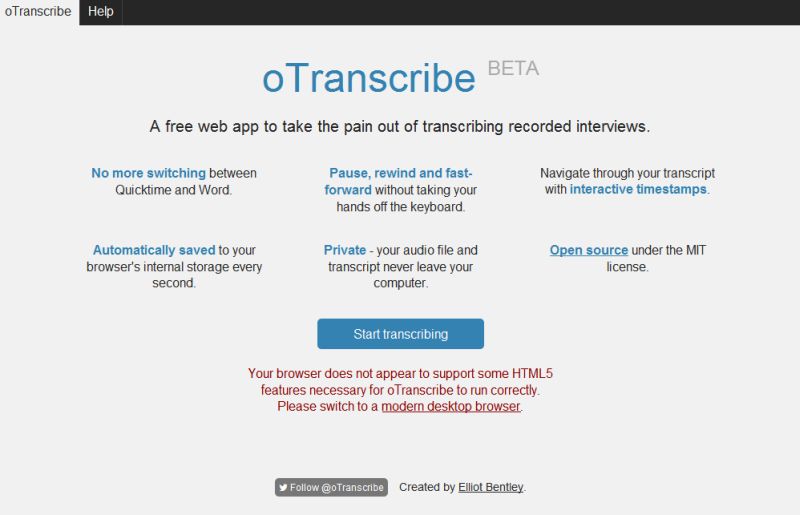 Image Source : thenextweb.com
OTranscribe contains everything in a browser, which saves users from the hassle of switching the windows. It is not time-consuming and keeps your energy. It only requires a modern browser that supports HTML 5 features.
Moreover, OTranscribeis a manual transcription tool, and its benefits are far too many. It not only gives improved accuracy of word recognition, which offers a better insightinto audio, but it is also a fast transcription software that is convenient to use.
However, the challenge is to keep pace with the audio track while you type it. It requires you to maintain accuracy with words, sentences, and whole conversation. oTranscribe has a sound speed adjuster that comes handy for slowing down or speeding up the audio by moving it toward the left or right. It helps in canceling the noise from audio and giving it more clarity. oTranscribe comes with an "autosave" option and automatically saves your work. Transcript history is its' another plus point, which provides you with an opportunity of viewing your previous work.
2. Inqscribe
Inqscribe is another transcription tool that allows you to do all transcription in one window. Inqscribe gives you an advantage over others as it has a feature that plays audio or video on its media player even from other hardware devices. You have the liberty to insert time code anywhere in the transcript, which helps in creating a separate closed caption file.
The software is powerful and yet simple to use. However, it has specific requirements, like you need to transcribe the speech of finished title in the original language script. You need to handle Inqscribe with extreme care, but once you record the speech in the original language, then it becomes easy to translate the transcription in other languages. Since it is a Unicode compliant, you can add rich annotations to provide additional information about grammatical, lexical, social, and other issues related to the title and language. Inqscribe supports all files that Windows Media Player can read; hence several media file formats are compatible with it. Although it does not give you an option of selecting a chunk of a file, overall, it is one easy-to-use transcription tool that works well to enhance any website's SEO.
3. Transcribe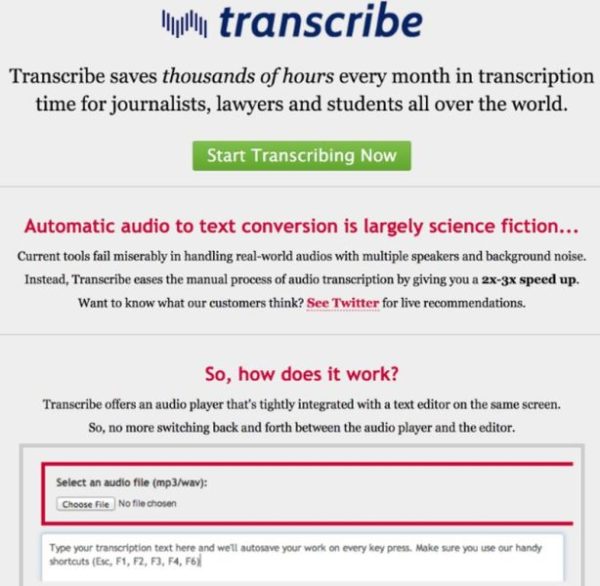 Image Source : miro.medium.com
Transcribe is a digital tool that assists people in transcribing audio files, and it is one of the best tools to transcribe podcasts. It supports foot pedals and has extraordinary slowed down quality, which makes it a preferred choice to transcribe speech. Transcribe has various features, including slowing down of audio without compromising on sound's pitch, ability to add textual annotation, and analysis of chords. It gives the option of creating a transcript either by typing or using their feature of converting voice to text through voice recognition software. Although Transcribe is a simple software, it requires some practice to be smooth with it.
4. The FTW Transcriber
This transcription software enhances productivity as it comes with time-saving features like superior sound quality and automatic timestamps. This transcription tool has a small orange icon on your screen and gives you the liberty to move it around at your convenience. The FTW Transcriber is a downloadable transcription software, and you can easily use it on android phones and tablets. It has a feature that allows the userto save personalized format settings. It plays several types of files and is compatible with various versions of word processors. The FTW Transcriber is a preferred choice for individuals who are freelancers and work remotely.
5. Express Scribe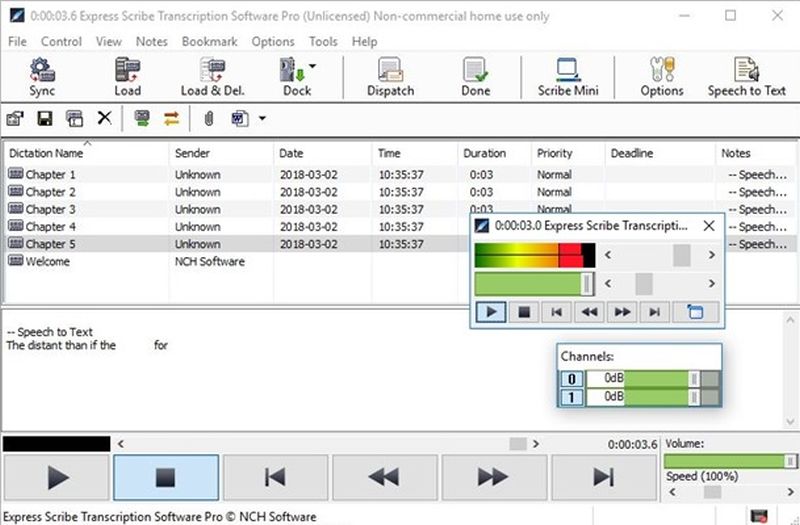 Image Source : nch.com.au
Express Scribe is a professional audio control software which assists in the transcription of audio recordings. There are two ways to control it, which are foot pedals and hot-keys of a keyboard. It comes with a feature that enables you to adjust the playback option of the audio file according to your typing speed. Express Scribe can transcribe audios and videos in a variety of formats, and its' Dock feature gives access to transfer recordings from portable devices. It is compatible with various word processors.
Moreover, you can also use Express Scribe's Notes Field. Additionally, it gives you an option to attach different files to the dictation, which are then sent with the recording whenever you forward that file. Express Scribe is an audio player that allows audio recordings to play from CD, emails, FTP, LAN, local hard drive, and Express Delegate. Its' feature of foot pedal makes it a favorable option to transcript files. 
Conclusion
Today's market is very competitive, and SEO serves a substantial number of consumers per day. SEO does not recognize sound or picture but can read the text. Transcripts are a textual depiction of audio and video content thatis approachable to search engines. A transcript authorizes search engines to consume content and index it accordingly. The text in a transcript of multimedia helps in bringing more traffic to your website and assists in gaining customers. It increases the ranking of your website and puts you ahead of the competition.Optimizing a website for search engines gives an edge over non-optimized websites, and transcription of multimedia content is necessary to optimize the website.
Article Submitted By Community Writer