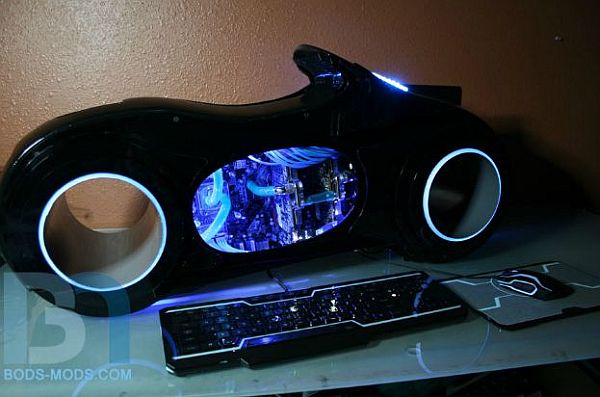 Are you a bike lover and did the movie Tron leave you impressed, specially the monstrous motorbike? If yes, then you have to read ahead. Bods Mods is out with a PC case that has derived heavy inspiration from the fancy bike in Tron. Dubbed the TRON Lightcycle PC, it has everything to make motorcycle junkies go insane.

Designed in a breath-taking manner, the case measures 40 inch in length and has been given a sinful facade. If the outer skin has made you go blind with its charm then read ahead to feel a little dizzy. An ATX motherboard, liquid cooling, and eye-catching blue light strips have been planted under the outer cover. Wow! Now this is some information to drool over.
To bring the TRON Lightcycle PC to life, the designer exploited Google's 3D modeling app, SketchUp, Dremel work plus a lot of foam shaping. The PC chassis have been modified in a neat manner with all necessary details in place. To make sure that the base is strong, the core components have been laser cut.
TRON Lightcycle PC is quite tasteful and enthralling. Its outer skin will capture a lot of interest and people crazy about bikes will feel like owning it instantly. The case is one of the entries at the 2011 Casemod Competition organized by Cooler Master.
Via: Ubergizmo