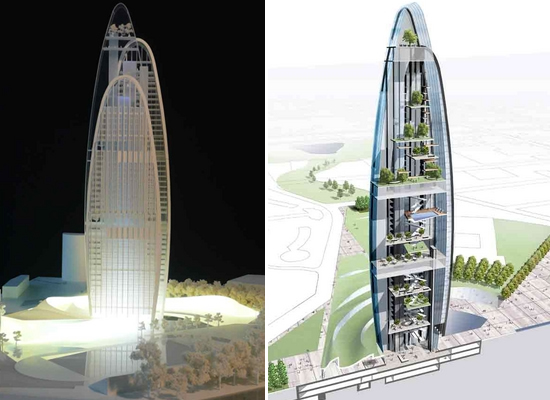 Since living in the concrete jungle has limited our chances to get in touch with nature, its time to look up as vertical hanging gardens are here to lift everyone's spirits as plants, pots, and plaques move upwards. Here is a towering green reason for green thumbed Russians to rejoice as RMJM has unveiled exclusive images of a proposed tower building that houses a vertical 'hanging' garden in Ekaterinburg. Believed to be one of its kinds in the world, it is also topped by a public sky park at the building's pinnacle offering panoramic views of the city! Inspired by the city's heritage and developed for the Red Group, the tower has a contemporary vertical evergreen park running through the core of the building demonstrating that tall buildings also provide an opportunity to create new green public space for a city.



However I disagree with Matt Cartwright, a director of RMJM's London office, on his statement – "Building tall can mean a smaller building footprint, allowing for more space for the parks, rivers and green public space that are vital for a city."
I believe that a tower, escalating high up in the sky, leaves more space for other such towers to come up in neighborhood. Builders and contractors are waiting to pounce on every inch of free space available on out planet. Very few will consider the idea of letting a prime location go off for eco-friendly reasons.